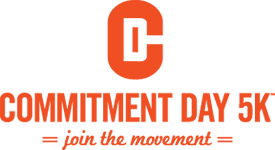 Third Annual 5K Fun Walk/Run Event Expands to More Than 60 Life Time Locations on Jan. 1, 2015
WHAT: According to a January 2014 study by University of Scranton's Journal of Clinical Psychology, only 46% of people keep up with a New Year resolution for longer than six months. July marks the half way point in 2014. For those who have lost momentum in their New Year's Resolution to get healthy, there is no better time than the present to kick failed resolutions and to recommit for the balance of the year and make an early commitment to keep it going into 2015 by registering for Commitment Day, which opens today.
Commitment Day, created and produced by Life Time – The Healthy Way of Life Company (NYSE:LTM), was created to unite individuals in 5K Walk/Run events across the US and Canada each January 1, as they declare their commitments to healthy eating, exercise, family, respect, giving and a healthy planet. Since its inaugural year in 2013, more than 65,000 people have participated in Commitment Day.
WHEN:
Registration Opens: Tuesday, July 8 at commitmentday.com
Commitment Day 5K Walk/Run Events: Thursday, January 1 at 10 a.m. (all time zones)
WHERE:  Commitment Day events will take place in more than 60 cities in the following states and province including (for a complete listing of cities visit CommitmentDay.com): 
Alabama
Arizona
California
Colorado
Florida
Georgia
Iowa
Illinois
Indiana
Kansas
Maryland
Michigan
Minnesota
Missouri
Nebraska
New Jersey
New York
Nevada
North Carolina
Ohio
Oklahoma
Texas
Utah
Virginia
Ontario, Canada
WHY: As America's health continues to take center stage with rising obesity rates, a generation of children facing serious health consequences, escalating health care costs and controllable diseases growing out of control, Commitment Day is about transforming the health of our country by encouraging people to make commitments of their own while encouraging family members, friends and colleagues to join them in doing the same. People of all ages and physical abilities are encouraged to commit to a healthy way of life, and extend a helping hand to others to do the same. It's a movement to unify the nation around a cause for much needed change, before it is irreversible.
In 2014, Commitment Day is proud to support the Life Time Foundation, a private operating foundation created by Life Time, as it strives to improve children's nutrition through education and the and the elimination of highly processed and unnatural ingredients from school lunch menus, ensuring every child has a healthy start in life.
Registration is now open for Commitment Day 5K Fun Walk/Run events. Participants who register before July 21 will receive registration at 50 percent off of regular price. Kids 12 and under are free. For more information about Commitment Day, or to register for a January 1 fun walk/run near you, visit commitmentday.com. Like Commitment Day on Facebook at facebook.com/commitmentday and follow the movement on Twitter at twitter.com/commitmentday.
About LifeTime Fitness, Inc.
As The Healthy Way of Life Company, Life Time Fitness (NYSE:LTM) helps organizations, communities and individuals achieve their total health objectives, athletic aspirations and fitness goals by engaging in their areas of interest — or discovering new passions — both inside and outside of Life Time's distinctive and large sports, professional fitness, family recreation and spa destinations, most of which operate 24 hours a day, seven days a week. The Company's Healthy Way of Life approach enables customers to achieve this by providing the best programs, people and places of uncompromising quality and value. As of July 8, 2014, the Company operated 111 centers under the LIFE TIME FITNESS® and LIFE TIME ATHLETIC® brands in the United States and Canada. Additional information about Life Time centers, programs and services is available at lifetimefitness.com.
# # #