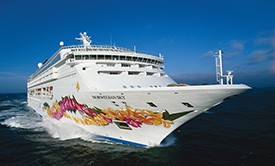 $50,000 in Prizes Offered in 3+ Mile/15+ Obstacle Sprint Race Hosted by Spartan Founder Joe De Sena, March 6 to 9, 2015
BOSTON (August 21, 2014) ­­– There are Spartan Races in 17 countries, and there are themed cruises, but never a themed Spartan Race cruise – until now. Spartan Race, the world's premier obstacle race company, will host a deluxe Caribbean cruise from the Port of Miami to a private island in the Bahamas on March 6 to 9, 2015.
The three-night Friday afternoon through Monday morning experience will feature an all-inclusive Norwegian Cruise Line cruise on the luxurious Sky from Miami, a 3+mile/15+ obstacle  Spartan Sprint on a private island in the Bahamas' Great Stirrup Cay, live music, dancing,  meals at select onboard restaurants, and what's considered best of all: a $50,000 prize pool for Elite racers.
The oceanside course will be hosted by Spartan founder Joe De Sena who will join the estimated 2,000 race enthusiasts and their families for this first-ever totally immersive island experience.
"It's going to be as competitive as any Spartan Race, combined with a long weekend vacation in one of the world's top travel destinations," said De Sena. "The shorter Sprint presents plenty for the hardcore Elite to test themselves and is a good starter race for new Spartans.
"We're going overboard on this one, packing as much as we can into three intense, but relaxing days in the sun," De Sena said.
Included in the package price:
3 day cruise
3+ mile Sprint Race with 15 obstacles – led by Joe De Sena
$50,000 prize pool for Elite Racers*
Kids travel FREE** (up to 17 years of age at time of booking)
Meals at select onboard restaurants
Kids Jr. Spartan race (ages 4-13)
Onboard entertainment
Book signing by Joe De Sena
Guest speakers
Award ceremony, finisher's medal and professional photo and video
Gratuities
Insurance
Spartan Cruise t-shirt
Full day at Great Stirrup Cay for lounging and playing with family and friends
* The first 200 racers that sign up for the "Elite" wave will be eligible for the $50,000 prize pool. The 200 spots will be on a first come, first serve basis.
** Kids Travel Free – ONLY if they are the 3rd or 4th passenger in the cabin. Otherwise, they will pay full price. Children 17 and under at the time of booking are free but are required to pay the Port Charges/Taxes/ Gratuities/Admin Fee/Cancelation and Medical Emergency Insurance: $288.00 per child.
The Sky features 13 dining options, 12 bars and lounges, a spa, and casino to enjoy to and from the race course.
The cost for the cruise and race registration starts at $829 per person dependent upon cabin size. There is a $100 registration fee for a limited number of 200 Elite racers competing for the $50,000 prize purse.
To register log onto: www.thespartancruise.com/ or call 800 248 7471.
# # #
8-21-14
About Spartan Race, Inc
Spartan Race, Inc., voted Outside Magazine's Best Obstacle Race, is the world's leading obstacle racing series. In 2013, Spartan Racers participated at 60 events worldwide in what for many was a transformational experience. Spartan Race also offers an obstacle course event for the next generation of Spartans ages four through thirteen.
With over 130 events in 17 countries planned for 2014, Spartan Race continues to make obstacle racing one of the fastest growing sports in the world. The Reebok Spartan Race global race series features races at three distances, 3+Mile/15+ Obstacle Sprint, 8+ Mile/20+ Obstacle Super and 12+ Mile/ 25+ Obstacle Beast, culminating each year in the Spartan World Championship, which in 2014 will be held in Killington, Vt. on September 20. With competitive Elite heats and Open heats for all fitness levels, Reebok Spartan Races offer something for everyone. The Spartan lifestyle continues its goal of ripping people off their couches and helping them lead happier, healthier and more productive lives.
Log onto http://www.spartan.com for more information, a schedule of events and to register for a race.