First ever Ford GFNY Oaxaca this Sunday
August 11, 2022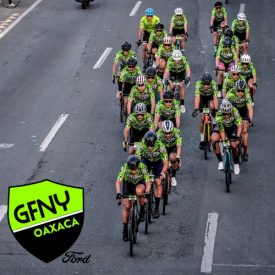 Racers will tackle iconic Ixtepeji and reach 2590m altitude at yet another new GFNY Mexico event
/
ENDURANCE

 SPORTSWIRE/ – Ford GFNY Oaxaca offers riders a long race course of 116.5km with an elevation gain of 1850m including Ixtepeji summit, one of the longest mountain passes in Mexico, considered an out of category climb.
The first 5km of the race through downtown Oaxaca are mostly flat. Once out of the city, the racecourse will combine rolling hills up to the Mezcal zone. The main challenge of the day will be the final 15km climb to the summit of Ixtepeji. It has an average gradient of 6% and is peaking at a whopping 19%. After reaching the highest point of the course at 2590m altitude, racers will head back to the city of Oaxaca Convention Center.
"We're honored to be able host GFNY in beautiful Oaxaca," said GFNY Mexico co-founder Shaun Gad. "A stunning host town and a challenging course coupled with tremendous government support assure that racers will enjoy a fantastic experience in best GFNY Mexico style."
"What started 2014 with GFNY Cozumel and the first granfondo ever in the country, has become a Mexico wide series of five races for thousands of riders who are keen to qualify for the World Championship in New York City."
Race week activities will take place at the Oaxaca Convention Center. It includes the traditional group ride on Saturday where cyclists get to enjoy a casual ride together.
Lonely Planet describes Oaxaca as "a cultural colossus fit to rival anywhere in Latin America for history, gastronomy and colorful manifestations of indigenous culture". It is "a complex but intensely attractive city whose majestic churches and refined plazas have deservedly earned it a Unesco World Heritage badge. Lovers of culture come here to indulge in the Mexico of Zapotec and colonial legend."
Website: oaxaca.gfny.com
About GFNY Global Endurance Sports Series
GFNY Global Endurance Sports Series is a sports event company with three decades of experience in racing, planning and organising events. The global endurance sports brand hosts multiple events throughout the year around the world on five continents.
Working with partners around the world to deliver a first-class experience, GFNY Global Endurance Sports Series puts their athletes first.
Cycling
30 plus events around the world. View the latest calendar here
Riders get to BE A PRO FOR A DAY ® by competing against others, themselves and the clock in a personal endurance challenge.
Top 10% (20% at regional championships) of finishers in each age group qualify for the Racer Corral at every GFNY World event.
GFNY World Championship NYC
The 11th annual GFNY World Championship New York will be held on May 21, 2023. The race features the world's most international peloton with riders from over 90 countries. Athletes take on a challenging 100-mile route from NYC to Bear Mountain to Fort Lee to compete against each other, the clock and themselves in a personal endurance challenge.
The official GFNY website is: www.gfny.com.
Further Material for Media Use
Official GFNY Oaxaca Video: here
GFNY Press Images: here
GFNY Results: here
GFNY World calendar graphic: here
Previous GFNY press releases: here
Media Contact
Gran Fondo New York Inc.
Uli Fluhme, uli@gfny.com
Caroline Lindsay, caroline@gfny.com