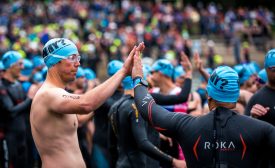 FREE Kids Triathlon teaches kids that healthy living is fun!
Portland, OR – 1133 athletes competed at the 38th Annual PDX Triathlon Festival at Blue Lake Park. The competition was fierce, the weather was perfect, and the scenery was stunning as athletes competed for the Oregon State Championship and USAT National rankings. Although many competitive athletes were in attendance, the majority of the athletes were those just trying to get to the finish line.
PDX Triathlon Festival also raised over $4000 for local schools, clubs and teams who volunteered at water stations and the finish line to raise funds. Sherri McMillan, race director for PDX Triathlon Festival states "It's amazing what a weekend of fun and racing can do to support others and our community. In addition, we had over 100 kids participate in our FREE Kids Triathlon teaching them to learn to love a healthy lifestyle!"
Post-event video – The event video really captures the spirit of the event and the beauty of Portland. Feel free to share.
Here's a link to the official race video so you can see how cool the event is!
Event Photos: Check out these smiling, happy faces! Feel free to share!
Here's the link to some of our favorite race photos:
Results: Below is a list of all the champions from each division and here's a link to all Results.
Super Sprint Triathlon – Male Champions
1st. Scott McBeth, age 50, Overall time 47:02 (Defending his title!)
2nd. Elijah Engstrom, age 16, Overall time 47:56
3rd, Theodore Even, age 60, Overall time 51:25
Masters: Kevin Shirley, age 54, Overall time 54:43
Super Sprint Triathlon – Female Champions
1st. Madison Wick, age 15, Overall time 51:38 (Defending her title)
2nd. Jenni Bertapelle, age 41, Overall time 52:30
3rd. Kari Nordquist, age 41, Overall time 54:26
Master: Jennifer Villegas, age 42, Overall time 1:00:36
Super Sprint Duathlon – Male Champions
1st. Jason Klein, age 30, Overall time 54:08
2nd. Jack Lighthipe, age 13, Overall time 1:10:11
3rd. Rithi Soeung, age 46, Overall time 1:10:21
Masters: Ricky Martin, age 48, Overall time 1:11:25
Super Sprint Duathlon – Female Champions
1st. Tanya Appuhn, age 52, Overall time 1:08:30
2nd. Cindy Martin, age 48, Overall time 1:11:23
3rd. Mallory Rose, age 13, Overall time 1:13:14
Masters: Jennifer Lummus, age 51, Overall time 1:22:16
Super Sprint AquaBike – Male Champion
1st. Larry Betten, age 72, Overall time 50:38
Super Sprint AquaBike – Female Champion
1st. Hayley Espelund, age 43, Overall time 40:05 (New Course Record)
Sprint Triathlon – Male Champions
1st. Nate Young, age 39, Overall time 1:01:07
2nd. Brett Donis, age 47 Overall time 1:04:49
3rd. Scott McBeth, age 50, Overall time 1:07:00
Masters: Mike Nicholas, age 40, Overall time 1:09:48
Sprint Triathlon – Female Champions
1st. Lori Deschamps, age 49, Overall time 1:08:04 (New Course Record)
2nd. Anne Usher, age 40, Overall time 1:08:19
3rd. Jenni Bertapelle, age 41, Overall time 1:13:15
Masters: Mary Balfe, age 40, Overall time 1:14:53
Sprint Duathlon – Male Champions
1st. Jason Klein, age 30, Overall time 1:10:43 (New Course Record)
2nd. David Hopper, age 50, Overall time 1:12:35
3rd. Cory Erickson, age 35, Overall time 1:17:01
Masters: Theodore Even, age 60, Overall time 1:18:17
Sprint Duathlon – Female Champions
1st. Jenn Woodland, age 34, Overall time 1:30:33
2nd. Jane Gratteri, age 38, Overall time 1:39:17
3rd. Carrie Williams, age 47, Overall time 1:40:10
Masters: Katherine Deumling, age 46, Overall time 1:44:15
Sprint AquaBike Male Champions
1st. Harmon Laurin, age 61, Overall time 52:48 (Defending his title)
Sprint AquaBike Female Champions
1st. Ashleigh Coon, age 28, Overall time 1:01:53
Olympic Triathlon – Male Champions – OREGON STATE CHAMPIONS
1st. Devin Volk, age 25, Overall time 1:57:16
2nd. Benjamin Snodgrass, age 27, Overall time 1:58:16
3rd. Marcus Farris, age 29, Overall time 1:59:29
Masters: Zack Winter, age 40, Overall time 2:00:46
Olympic Triathlon – Female Champions – OREGON STATE CHAMPIONS 
1st. Angharad Porteous, age 31, Overall time 2:14:21
2nd. Emily Arcuri, age 27, Overall time 2:16:39
3rd. Emily Painter, age 32, Overall time 2:20:25
Masters: Lisa Mueller, age 47, Overall time 2:21:35
Olympic Duathlon – Male Champions
1st. Webster Slavens, age 35, Overall time 2:14:12
2nd. Robert Gilbert, age 54, Overall time 2:16:05
3rd. Jacob Malpass, age 34, Overall time 2:17:25
Masters: Robby Halterman, age 50, Overall time 2:18:23
Olympic Duathlon – Female Champions
1st. Anne Mousseau age 32, Overall time 2:34:40
2nd. Karen King, age 50, Overall time 2:57:13
3rd. Rebecca McCarthy, age 33, Overall time 3:00:13
Masters: Gina Grimm, age 48, Overall time 3:03:38
Olympic AquaBike Male Champions
1st. Beau Bonito, age 46, Overall time 1:31:29
Olympic AquaBike Female Champions
1st. Barkley Hope, age 42, Overall time 1:31:29 (New Course Record)
# # #