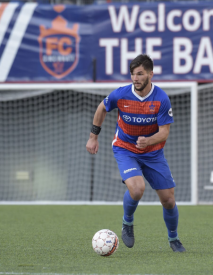 USL Professional Moves from Charleston Battery to FC Cincinnati and brings XRCEL with him
Charleston, SC (April 17, 2018) – New World Consumer Products, LLC, a division of New World Pharmaceuticals, would like to announce that professional soccer player Forrest Lasso, who recently moved from USL team Charleston Battery to FC Cincinnati, has joined the XRCEL team as an ambassador. Forrest will be fueled, for the 2018 season and beyond, by XRCEL Athlete Fuel, a sustained-release sports performance fuel based on New World Pharmaceuticals' patented formulation technology. 
"I was first introduced to XRCEL 3 years ago when I signed my first professional contract with the Charleston Battery. I had used similar products in the past but could never find one that really worked for me", said Lasso. "After the coaches introduced me to it, and drinking my first XRCEL, I noticed an increase in my performance and endurance immediately. I've been drinking XRCEL ever since for training and games and am very excited to team up with XRCEL this year as I continue my professional career."
"We are thrilled to have Forrest join our team of Ambassadors," said Fred Sexton, Founder and President of New World Consumer Products, the makers of XRCEL Athlete Fuel. "This relationship is an important development in our mission to educate and fuel elite athletes. The fact that Forrest was introduced to XRCEL during the start of his career at the Battery and now he will be helping to spread the word as he continues his professional career is a natural progression. When a player finds something that works for them and helps them perform better they stick with it. That's a great thing and speaks volumes about the brand." 
About XRCEL® Athlete Fuel
XRCEL Athlete Fuel is a revolutionary extended release carbohydrate supplement formulated with patented pH and temperature responsive micro-gel technology developed by New World Pharmaceuticals, LLC.  XRCEL is a caffeine and banned substance free supplement designed to provide athletes with extended release muscle and brain fuel so that they may get the most out of their training and competitions. NCAA & WADA Compliant.
New World Pharmaceuticals is based in Charleston, South Carolina. For more information, please visit http://www.NewWorldPharma.com.
For More Information 
Media Inquiries:
Lisa Sexton
843.737.6192 Ext 104
Lisa@XRCEL.com