Fast, furious and hot racing at 5th GFNY Cozumel leaves Trek-Segafredo pro Pantano off the podium
November 15, 2018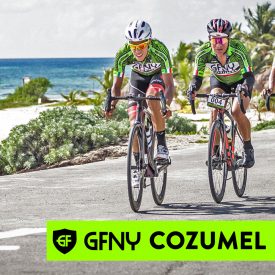 A record breaking 50 countries and over 3000 riders take on GFNY Cozumel
NEW YORK CITY, Nov 15, 2018 – A record breaking 50 countries and 3000 riders took part in the 5th GFNY Cozumel last Sunday, November 11.
Clear blue skies and picture-perfect conditions made GFNY Cozumel the hottest on record in the event's five-year history. 50 countries were represented with several teams on the island to help their lead rider take the victory. The international depth of field resulted in the fastest race on record.
From the gun the race was full speed with riders moving at over 60kph. There was an immediate breakaway from a solo Cozumel rider testing the pack. He was caught within five minutes by a five-person breakaway consisting of pro cycling legend Raul Alcala (Mexico), Jarlinson Pantano (Team Trek Segafredo) and other strong Colombian riders. The five held strong until the 'Mazda King of the Wind' section where they were caught by a large peloton containing last year's winner Flavio de Luna.
In the last quarter of the race, a group of fifteen made a successful break from the peloton. The riders, including Alcala, Pantano, 2017 GFNY NYC champ Ricardo Piccheta, Flavio de Luna, Mario Zamora and Luis Villalobos were all dangerous and capable of taking the win.
As they headed back into town, de Luna attempted a solo attack for 3km before he was caught and the remaining riders with fresher legs counterattacked with speeds exceeding 55kph.
With 1km to go to the finish Mario Zamora went for one last break and took it all the way to the finish to take the title in a time of 3:49:05. Second place went to Ignacio de Jesus Prado Jurez in 3:49:15 and Luis Ricardo Villalobos Hernandez completed the podium for a Mexican one, two, three.
In the women's race it was a tight three-way battle for the win with fractions of a second separating the top three. Mexican Ana Teresa Casa Bonilla emerged with the victory in 3:56:40. Maria Ximena Calzada Leon took second in 3:56:46 and Frida Mancilla Cruz rounded out the podium in 3:56:56. 
Next up is GFNY Chile on November 25. 
About GFNY
GFNY is the global cycling marathon brand with events held in NYC, Bali-Indonesia, Brazil, Chile, Colombia, Costa Rica, Germany, República Dominicana, Indonesia, Italy, Jerusalem-Israel, Cozumel-Mexico, Monterrey-Mexico, Panama, Philippines, Portugal and Uruguay.
Riders get to BE A PRO FOR A DAY by competing against others, themselves and the clock in a personal endurance challenge.
At all GFNY events, riders have the chance to qualify for the elite racer corral at the GFNY World Championship in NYC by placing in the top 10% (20% at regional championships) of their age group.
Campagnolo GFNY World Championship NYC
The 9th annual Campagnolo GFNY World Championship New York will be held on May 19, 2019. The race features the world's most international peloton with riders from over 90 countries. Athletes take on a challenging 100-mile route from NYC to Bear Mountain to Fort Lee to compete against each other, the clock and themselves in a personal endurance challenge.
The official GFNY website is: www.gfny.com.
GFNY World 2018 calendar
GFNY World 2019 calendar
Further Material for Media Use
GFNY World calendar graphic: here
Previous GFNY press releases: here
GFNY Cozumel video: here
GFNY Cozumel photos: here
Media Contact
Gran Fondo New York Inc.
Uli Fluhme
Phone: +1.212.933.4033
Email address: uli@gfny.com