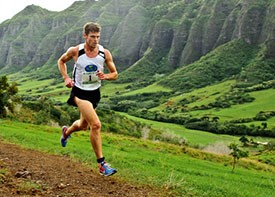 The 2013 XTERRA Trail Run World Championship will feature defending world champions, former world champions, a new national champ, former national champs, and numerous other runners with international experience.
November 21, 2013 (Honolulu, HI) – The 2013 XTERRA Trail Run World Championship will feature defending world champions, former world champions, a new national champ, former national champs, and numerous other runners with international experience.
In essence, it will be the deepest field of title contenders in the six-year history of the event.
This year's race is scheduled for November 24, and it will once again be staged at the picturesque Kualoa Ranch in Hawaii. More than 2,000 runners from around the world will gather for the race on the ranch, and the list of elite runners in the field is an impressive one.
Among the men's contenders:
Joseph Gray from Washington is the returning co-champion. He and Ben Bruce crossed the finish line simultaneously last year and were declared co-champs. Bruce is not in the race this year due to a scheduling conflict. Gray has sustained his success in 2013, including a runner-up showing at the XTERRA Trail Run National Championship at Utah, and a seventh-place finish at the World Mountain Running Championship at Poland.
Max King from Oregon is the runner most associated with XTERRA Trail Run success. He won the XTERRA Trail Run World Championship at Kualoa Ranch in 2008, 2009, 2010 and 2011. He skipped it last year for the birth of his daughter. He was slowed by an ankle injury in recent months, but said it is now at "95 percent and feeling good."
Patrick Smyth from Utah will be making his debut at Kualoa Ranch after bursting onto the XTERRA Trail Run scene two months ago. He won the XTERRA Trail Run National Championship in his home state of Utah in September, finishing ahead of such stalwarts as Gray and King. He was invited to join the Nike Trail Team after that victory. This will be his first time racing in the heat and humidity of Hawaii, and only the second trail run race of his career. Most of his previous success has come in road and track races.
Willie Schefer from Maui, Hawaii, placed fifth overall at last year's XTERRA Trail Run World Championship. It was his first try at the Kualoa Ranch course, and that year under his belt should help this year. He was introduced to trail running on the island of Maui a year ago, and said he has been training on trails throughout 2013. He is a two-time winner of the XTERRA Kapalua Trail Runs 10K on his home island of Maui.
Nathan Carlson from Honolulu, Hawaii, has emerged as one of the top trail runners on the island of Oahu. He recently won the XTERRA Gunstock Ranch Trail Run 21K – which was staged only a few miles away from Kualoa Ranch – by a whopping 12-minute margin.
Nathan Peters from Salt Lake City will be making his debut at Kualoa Ranch after a fifth-place overall showing at the XTERRA Trail Run National Championship in his home state of Utah. Earlier this year, he won the Skyline Marathon in Utah, and established a new course record.
Matthew Battley is only 19, but he has already established himself as the top trail runner in the XTERRA New Zealand Trail Run circuit. He placed first overall at the XTERRA Rotorua Festival 21K, and then second overall at the XTERRA Trail Challenge Waihi 21K.
Roberto Mandje from Boulder, Colorado, placed seventh overall at last year's XTERRA Trail Run World Championship, and is focused on improving his standing this year. He entered several XTERRA Trail Run events across America in 2013, and won the XTERRA Lake Las Vegas 21K and the XTERRA Cheyenne Mountain Trail Run 12K. He also placed second overall at the XTERRA Oak Mountain Trail Run 20K and the XTERRA Beaver Creek Trail Run 10K.
Several other dark horse contenders could emerge, as there are runners from 10 countries and 36 different states in the field.
"It takes a little bit of everything," Max King said of what it takes to be successful at Kualoa Ranch. "Strong technical skills are a must, but parts of the course also require a high level of speed as well. The biggest thing that I've noticed is that the significant hill at mile 9 really wipes people out. Climbing ability is important from the gun, but having climbing endurance in this race is even more important."
The women's field is just as deep this year, with a handful of contenders looking to chase down the title. Among the female contenders:
Lucy Smith from Canada is the defending champion who is returning to Kualoa Ranch for the third consecutive year. She placed second overall in 2011, then took the championship last year by an impressive two-minute margin. She was 45 when she won the race last year, becoming the oldest runner – male or female – to win the XTERRA Trail Run World Championship.
Polina Babkina placed third last year, but was leading the race until she took a wrong turn midway through the course. A week after last year's race at Kualoa Ranch, she ran in the Honolulu Marathon and was the top female finisher from Hawaii. In October of this year, she was the top female finisher (and finished behind only one male runner) at the XTERRA Gunstock Trail Run 21K. She is originally from Russia, but now resides in Honolulu.
Meggan Franks from Canada will be making her debut at Kualoa Ranch, almost by accident. She found out her father was taking a vacation in Hawaii, and she and other members of the family decided to join in. She was the first overall female at the 2013 Canadian Mountain & Trail Running Championships in June. She was also one of four women selected to the 2013 Canadian Mountain Running Team that participated in the 2013 World Mountain Running Championships at Poland.
Samantha McGlone from Arizona is best known as one of the world's best triathletes during the decade of the 2000s, and that alone makes her a serious contender in any endurance event. She represented Canada in the triathlon at the 2004 Olympics and was the women's runner-up at the 2007 Ironman World Championship triathlon. This will be her first appearance at the XTERRA Trail Run World Championship, though she did place first overall at the XTERRA Freedom Fest Trail Run 10K at Kualoa Ranch earlier this year.
Rose Wetzel from Washington will be making her debut at Kualoa Ranch, and she will bring an impressive track resume with her. She took first place in the women's 5000-meter run and 800-meter run at the USATF National Club Track and Field Championships at New York in June of this year.
The elite runners will be competing for $10,000 in prize money, including $2,000 each to the men's and women's winners.
However, the XTERRA Trail Run World Championship is a race for all runners, and numerous others will be competing for age-group titles. Every male and female age-group champion from the 21K championship course is considered an XTERRA Trail Run World Champion.
Returning age-group world champs from 2012 include: Jakob Dewald (men 15-19), Polina Babkina (women 20-24), Willie Schefer (men 20-24), Joseph Gray (men 25-29), Lucy Smith (women 45-49), Keith Rieger (men 45-49), Raymond Brust (men 50-54), Nozomi Wade (women 55-59), Edward Bugarin (men 60-64), Lee Saltonstall (women 65-69), Jon Lyon (men 65-69), and Roger Kemppel (men 70-74).
There is no qualifying process to enter the XTERRA Trail Run World Championship, so the field will include a unique mix of experienced and inexperienced XTERRA Trail Run competitors. The event also serves as an introductory trail run event for runners, as there are 5K and 10K races for those who may not feel ready for the half-marathon course.
KUALOA RANCH IS THE REAL STAR AT XTERRA TRAIL RUN WORLDS
Runners come and go at the XTERRA Trail Run World Championship, but one star of the show remains true every year. Kualoa Ranch.
The 4,000-acre working cattle ranch on the northeast coast of the island of Oahu, Hawaii, is the lure that keeps bringing more than 2,000 runners from around the world to the race every year.
"The XTERRA half-marathon course at Kualoa is a pretty challenging and technically demanding race," said Polina Babkina, a Honolulu resident who placed third at the 2012 XTERRA Trail Run World Championship. "The course is also one of the most beautiful and amazing courses I've ever run. The race sends runners maneuvering through the forest, crossing over streams, and across some relentless up-hills. The terrain is rugged and technical at times, but the scenery is breathtaking throughout the whole race."
Part of the allure is the mystery of Kualoa Ranch. The trails are normally closed to the public, and only a handful of races are allowed there each year. In essence, there is no "home course advantage" because no runners are allowed to practice on the trails.
The beauty of Kualoa Ranch may often be closed to the public, but it has certainly been put on display on the big screen. Hit movies such as Jurassic Park, Godzilla, Battleship, Pearl Harbor, 50 First Dates and others have featured Kualoa Ranch as a prominent backdrop. Hawaii-based television shows LOST and Hawaii Five-O also filmed regularly at the Ranch.
As for the race itself, the 21-kilometer championship course takes runners on wild adventure that includes narrow single track along the top of a mountain, dirt roads, cow pastures, stream crossings, tropical forests, and passes alongside some of the remaining movie production sets.
Oregon's Max King, who has won the race at Kualoa Ranch four times in his career, said: "The scenery of the course easily stands out as one of the main draws to the Kualoa course. Not only that, but it's a challenging half-marathon that still requires a good amount of speed training to do well. It's got everything a good trail race should have."
Babkina did the race for the first time last year, and said she could not help but notice the sights along the course, even though she was racing at a fast pace with the leaders.
"Even though I tried to pay attention on rugged trail road, it was hard not to notice spectacular views from  the top of the hills," she said. "Kualoa Ranch is an area of Oahu that's very rich in nature. There is no doubt the XTERRA half-marathon course is one of the most scenic races I've ever competed in."
TEAM 2 END AIDS
There will be more than 2,000 runners on Sunday, and just about every one of them has a reason to run.
It will be tough to top Alan Huneycutt's reason to run. Huneycutt is part of the Manning Up USA Trailblazers, which is an organization for people who have overcome physical and emotional challenges to accomplish athletic goals and help raise funds for charities.
Six members of the Manning Up USA team will be running in the XTERRA Trail Run World Championship this year, and they are helping to raise funds for TEAM 2 END AIDS. The TEAM 2 END AIDS group is also bringing more than 40 runners to participate in the race in an effort to raise close to $200,000 for AIDS Project Los Angeles.
In March of 2012, Huneycutt was in a horrific car accident in North Carolina. It left him with a broken back, broken ribs, bruised lungs … and one deceased friend. After a major surgery to repair his back, followed by two months of recovery, Huneycutt had to learn how to walk again.
Less than a year after his accident, he started entering 5K races as part of his recovery process. "Prior to the accident, I could not stand to run or do any cardio, and did none what so ever," said Huneycutt. "The only thing I enjoyed to do was lifting weights. After my accident, I really just wanted to focus on an overall healthy lifestyle and I couldn't imagine that without some form of cardiovascular activity. I began to run on the treadmill at my gym, just short runs to begin with. Then my manager at the time (Sam Nicholson) convinced me to do my first 5K with him and ever since then I have been hooked on running."
The 21K course at Kualoa Ranch will be the longest race of Huneycutt's life, and also his first experience in a trail race. He still has lingering injuries from the car accident, so he often incorporates weight training and swimming into his workouts on the days when he can't run.
"I would love to be able to say that there is a time I wish to finish in, but since I have yet to run a half-marathon or a trail run I feel like that is just inconceivable," Huneycutt said. "I just want to be able to go out on the course and run as hard as I can and be there to support my team to do the same."
Huneycutt, 22, is a student at the University of North Carolina at Charlotte, pursuing a degree in Sociology.
Other members of the Manning Up USA Trailblazers have similar inspirational stories, including Jeremy Manning (founder of the group who overcame drug addiction and family abuse), Mylee Cardenas (a single mother/former Army drill instructor/breast cancer survivor), Alex Minsky (a military wounded warrior who had his right leg amputated below the thigh after he was involved in an IED explosion in Afghanistan), Jessie Sink (lost part of his right arm in an electric fire accident) and Randy Miyashiro (abuse survivor).
The XTERRA Trail Run World Championship will be the first time that all six members of the team will participate in a race together.
To learn more about the Manning Up USA Trailblazers, please visit www.manningupusa.com.
To learn more about TEAM 2 END AIDS or make a donation, please visit www.t2ea.com and click on the Los Angeles link.
SMALL RUNNERS MAKING BIG STRIDES
Some of the smallest runners in the XTERRA Trail Run World Championship will be making the biggest strides.
A group of students from Nanaikapono Elementary School will be participating in the event for the first time as part of an after-school program to create an active and healthy lifestyle. The 17 students are in the fourth, fifth and sixth grades at the school in Nanakuli, and range in age from 9 to 12.
Nanaikapono teachers Karen Finnerty and Kevin Eiker started assisting the PALS (Program for After-school Literacy Support) program this school year, and they decided to incorporate running into the curriculum.
"PALS provides out of school experiences for mainly Native Hawaiian kids on the Waianae Coast," Finnerty said. "We chose to focus on fitness. We wanted the kids to lead healthy lifestyles, but also to impact their whole community and lead by example."
Finnerty said the students have made tremendous progress in just a few months of training, both in their physical fitness and sense of teamwork.
"They have really come a long way in their running," Finnerty said. "Teamwork and support for each other has really changed, too. You'll see kids going back after they finish to help others finish and cheering each other along as they go."
As part of the reward for registering for the race, the students were treated to a surprise field trip a few weeks ago to buy running shoes. The PALS program, which is funded and supported by the Office of Equity, Excellence and Diversity at the University of Hawaii, provided the funds for the shoes.
The field trip doubled as a learning tool, as each student was given a $55 budget to purchase shoes.
"We talked about the type of shoes, and the guys at Sports Authority were so great with them, helping them try them on, find the right sizes, everything," Finnerty said. "They are super proud of their shoes and their running has changed drastically."
What's more, the shoes are treated like sports equipment. The students have to turn in the shoes after each practice, and they can be worn only during school hours or at practices. "We felt that it was really important that they all had the right shoes, but we didn't want them to feel like they were getting freebies, so they have to work for them," Finnerty said.
The Nanaikapono students will run in the 5K, with dreams of increasing to longer distances in future years.
"They know they are doing something way beyond what anyone expects of them and way bigger than they even know," Finnerty said. "They also know they are going to represent not just themselves, but the PALS program, Nanaikapono and their whole Nanakuli community."
The Nanaikapono students are proof that the XTERRA Trail Run World Championship is open to runners of all ages and skill levels, and there is still time for anyone to enter. Online registration will remain open through November 20 at www.xterrakualoa.com.
TRAIL RUN WORLDS WILL BENEFIT LLS-HAWAII CHAPTER
The 2013 XTERRA Trail Run World Championship will serve as a benefit event for the Leukemia & Lymphoma Society – Hawaii Chapter, and a donation will be made to the charity after the race. The LLS-Hawaii Chapter will also provide many of the volunteers at Kualoa Ranch on the day of the race.
The LLS-Hawaii Chapter has a mission to cure leukemia, lymphoma, Hodgkin's disease and myeloma, and improve the quality of life of patients and their families.
There are more than 500 patients on Oahu affected by leukemia and lymphoma, and all donations to the LLS-Hawaii Chapter will go toward research and patient services.
To learn more about the organization or to make a donation, please visit www.lls.org.
The XTERRA Trail Run World Championship is presented by Paul Mitchell, AVIA, Outrigger Hotels and Resorts, and PowerBar. Sponsors include the Hawaii Tourism Authority, OC 16, Kualoa Ranch, Gatorade, Zorrel, Trail Runner Magazine, LifeProof, Rockwell Watches, Footbalance, Island Air, Hawaii Sport Magazine, and Rudy Project.
About TEAM Unlimited/XTERRA
TEAM Unlimited is a Hawaii-based television events and marketing company, founded in 1988.  It owns and produces XTERRA and in 2013 will offer more than 300 XTERRA off-road triathlon and trail running races in 18 countries worldwide.  In the U.S. alone nearly 200,000 participants took part in the XTERRA lifestyle last year.  In addition, TEAM TV has produced more than 300 adventure television shows resulting in three Emmy's and 42 Telly Awards for production excellence since 1990.  View samples at www.xterra.tv, and learn more at xterraplanet.com and xterratrailrun.com.