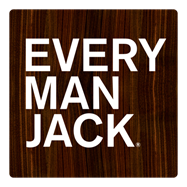 Every Man Jack & Tough Mudder PR Announcement
Corte Madera, CA  – Every Man Jack and Tough Mudder have partnered to create an upgraded shower experience for participants to #cleanupnice for the 2019 and 2020 North American event series. As the official Men's Grooming Partner, Every Man Jack's Naturally Derived grooming products will be available at all events starting in Los Angeles on April 6th and 7th, 2019.
The Every Man Jack shower experience will be at every finish line to help participants get clean  after completing the muddy course. The newly upgraded showers will be stocked with Every Man Jack's Body Wash and 2in1 Shampoo + Conditioner. Every Man Jack strives to use as many naturally derived and plant-based ingredients as possible, while still delivering exceptional performance. Shampoo and Body Wash bottles are made with at least 50% post-consumer recycled plastic, are cruelty free, and are made with biodegradable jojoba esters, in place of plastic microbeads.
Every Man Jack and Tough Mudder are teaming up to find the best and muddiest beards across the country to create the #EMJbeardteam. Guys, start growing your beards and look out for more information soon.
"We have been supporting adventure and endurance sports for many years now and have always felt like the ultimate partnership would be with Tough Mudder," said Ritch Viola, founder and CEO of Every Man Jack. "The event naturally calls for the ideal Every Man Jack brand activation with post-event showers. We think the experience and partnership aligns so nicely for Every Man Jack and all of the Tough Mudder Nation. We can't wait to get out on course!"
"We are excited to be partnering with Every Man Jack to deliver a great participant experience for Mudder Nation," said Rebecca McKinnon, Vice President, Business Development at Tough Mudder.  "The enhanced showers will be the first of their kind in the OCR space.  We believe this experience will generate tremendous good will towards the brand and ultimately generate sales as Every Man Jack will deliver products and services to Mudder Nation when they need them the most. "
For a chance to win tickets to a Tough Mudder event, grooming tips, and new product announcements, follow Every Man Jack on Instagram, Facebook, and Twitter.
About Every Man Jack
Every Man Jack is a leader in the Men's Grooming market with a full range of body, hair, beard, shave, and skincare solutions. Every Man Jack uses as many naturally derived and plant based ingredients as possible and no harsh chemicals, while delivering exceptional performance to get the job done. Every Man Jack's mission is to offer daily necessities at affordable prices that are easily accessible at major retailers including Target, Walmart, Whole Foods, Amazon, and CVS. For additional information, please visit www.EveryManJack.com and @everymanjack.
About Tough Mudder
Founded in 2010 with the launch of the Tough Mudder obstacle course event series, Tough Mudder Inc. has become a leading global sports and active lifestyle brand. With more than 3 million participants, the company hosts more than 130 non-competitive (Mini Mudder, Tough Mudder 5K and Tough Mudder Classic) and competitive (Tougher Mudder, Toughest Mudder and World's Toughest Mudder) events annually in 10 countries including the United States, Canada, United Kingdom and Germany. The company's content arm provides the more than millions of engaged online brand enthusiasts with fitness, nutrition and wellness content delivered daily across social and digital platforms. Other NAM sponsorship partners include 3M's Nexcare and ACE brands, CELSIUS, Soap & Glory, Navy Federal Credit Union, Alanic, and additional partners being launched in the next few weeks.