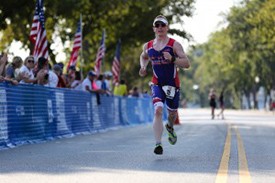 Triathletes from across the country can enter to win a VIP experience including free race entry; 51 winners will have the chance to represent their state at the Nation's Capital's only triathlon
WASHINGTON, DC – July 1, 2014 – In light of the abounding patriotism storming across America in support of the US World Cup soccer game and upcoming Fourth of July holiday, Events DC Nation's Triathlon To Benefit the Leukemia & Lymphoma Society launched a nationwide campaign to honor a representative from each state plus the District of Columbia (DC) at its upcoming triathlon on September 7. Fifty-one triathletes will have the opportunity to win a VIP race experience and represent their state at Washington D.C.'s only triathlon.
Registered triathletes can enter to win by submitting responses to three questions: Why do you want to represent your state or DC in the Nation's capital? What's your favorite training spot in your home state or DC? Why did you get started in the sport of triathlon? Responses, participant's name and state of residence should be emailed to 50states@competitorgroup.com.
Winners will not only be treated to a VIP race experience, but will also participate in the "Parade of Nations" where they will represent their state at the start line of the race. Additionally, winners will have access to race weekend exclusive Q&A and Triathlon 101 Tips with Legendary Triathletes, Private Capitol Tour on Saturday, September 6th, and VIP Hospitality on Race Day for winner and one (1) guest. Triathletes must be registered for the race to enter, but will be refunded for either the Olympic or Sprint race entry following the event.
"We want to continue pushing the envelope in terms of staging one of the most distinguished triathlon events in the world right here in Washington DC," said Molly Quinn, Vice President of Triathlon at Competitor Group, organizers of Events DC Nation's Triathlon. "The 50 State Campaign helps celebrate the sport of triathlon across the country, and what better location to gather than in our Nation's Capital."
Events DC Nation's Triathlon, which takes place on Sunday, September 7, 2014, consists of a Olympic distance race and an inaugural Sprint distance.  The weekend celebration kicks off with a free two-day Health & Fitness Expo and concludes with a finish line festival featuring a live band. The prestigious event is renowned for a scenic course that winds through the National Mall and Memorial Parks, passes by Washington DC's historical landmarks and concludes with a spectacular finish south of the FDR Memorial.
"Events DC Nation's Triathlon will showcase the best of Washington DC and we're ready to roll out the red carpet for triathletes from around the world," said Erik A. Moses, managing director of Events DC's Sports and Entertainment Division. "We are particularly excited to celebrate representatives from each state as part of this campaign."
For more information about the Events DC Nation's Triathlon To Benefit The Leukemia & Lymphoma Society, please visit NationsTri.com or follow @NationsTri on Twitter. 
About Events DC
Events DC, the official convention and sports authority for the District of Columbia, delivers premier event services and flexible venues across the nation's capital. Leveraging the power of a world-class destination and creating amazing attendee experiences, Events DC generates economic and community benefits through the attraction and promotion of business, athletic, entertainment and cultural activities. Events DC oversees the Walter E. Washington Convention Center, an anchor of the District's hospitality and tourism economy that generates over $400 million annually in total economic impact, and the historic Carnegie Library at Mt. Vernon Square. Events DC manages the Stadium-Armory campus, which includes Robert F. Kennedy Memorial Stadium and surrounding Festival Grounds, the non-military functions of the DC Armory and Maloof Skate Park at RFK Stadium. Events DC also built and now serves as landlord for Nationals Park, the first LEED-certified major professional sports stadium in the United States. For more information, please visit EventsDC.com. 
About Events DC Nation's Triathlon
Operated by Competitor Group, the 9th Events DC Nation's Triathlon To Benefit The Leukemia & Lymphoma Society is one of the premiere sprint and international distance triathlons in the United States. Set against the magnificent and patriotic setting of the Washington DC and its monuments, participants in the event will swim 1 in the Potomac River, bike through scenic vistas, and conclude with a run  through downtown D.C. Further information about the Events DC Nation's Triathlon is available at NationsTri.com or follow @NationsTri on Twitter.
# # #