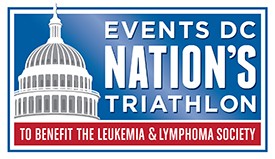 Partnership expands relationship between Events DC and Competitor Group in the endurance sports market
Washington, DC – July 10, 2013 –Competitor Group, Inc. (CGI), the leading active lifestyle sports media and event entertainment company, and Events DC, the official convention and sports authority for the District of Columbia, today announced a new multi-year title partnership agreement for the Nation's Triathlon To Benefit The Leukemia & Lymphoma Society.
The 2013 Events DC Nation's Triathlon will take place on Sunday, September 8, welcoming more than 5,000 participants to one of the largest international distance triathlons in the United States. Washington DC's signature multisport event was managed for the first time by San Diego-based CGI in 2012, drawing entrants from around the world.
The Events DC Nation's Triathlon is a weekend celebration with a free two-day Health & Fitness Expo and a finish line festival featuring a live band. The prestigious event is renowned for a scenic course that winds through the National Mall and Memorial Parks including a 1.5k swim in the Potomac River, 40k bike course through the streets of Washington and Maryland, before finishing with a 10k run through Washington DC's historical landmarks with a spectacular finish south of the FDR Memorial.
The triathlon debuted in 2006, drawing a field of less than 500 local participants. Today the Events DC Nation's Triathlon has grown to feature fields of more than 5,000 competitors each year. With nearly 40% of all participants traveling from 46 states, the event annually produces an enormous positive impact for the DC Metro area economy. The expanded partnership with Events DC represents an ideal opportunity to attract more international participants at a time when the sport of triathlon is experiencing a tremendous growth and globalization.
"As a sponsor of the Nation's Triathlon since 2010, we recognize it as one of the most significant sporting events in Washington, DC, and our enhanced partnership is a great fit with our expanding role in the endurance sports market," said Erik A. Moses, Events DC senior vice president. "The growing popularity of triathlon appeals to a highly engaged demographic and delivers an extremely passionate audience. We believe our partnership with Competitor Group represents a perfect pairing, and swimming in the Potomac River is so much more fun with 5,000 of your closest friends."
Events DC and CGI also partner on the Rock 'n Roll USA Marathon, which features the finish line and post-race festival on the Stadium-Armory campus. Events DC has hosted a growing number of 5K & 10K races on the RFK Stadium Festival Grounds along with health & fitness expos and race-related dinners in its venues.
"We share Events DC's passion and commitment to offering world-class experiences in Washington DC and are thrilled to have them as the title partner of the Event's DC Nation's Triathlon," said Molly Quinn, Vice-President of Triathlon Events at CGI. "With this partnership Nation's Tri is going international to bring even more participants to Washington DC from outside the beltway and will also ensure that we continue to push the envelope, staging one of the most distinguished triathlon events in the world in our Nation's Capital."
Building off of the success of its seven year partnership, the Leukemia & Lymphoma Society returns as the official and exclusive charity of the event, which is the only triathlon in the country to benefit research toward a cure for blood cancers. Through the Team In Training program, participants have raised more than $12 million for blood cancer research and patient service programs.
With its spectacular course and world-class reputation, the Events DC Nation's Triathlon features several races-within-a-race including a Gryphon Technologies Military Challenge, open to active duty military and veterans, Congressional Challenge, open to federal and Hill employees, the Commander-in-Chief Challenge, open to participants from the military academy tri teams, and the Etihad Airways Tri Club Challenge, for triathlon club members.
Event weekend kicks off with a two-day REI Health & Fitness Expo, which is open to the public on Friday, September 6 and Saturday, September 7 at the Washington Hilton. The free expo is where all race participants go to pick up their race packet and features more than 50 vendors with the latest in triathlon gear, nutrition samples, souvenirs and a series of interactive clinics.
For more information about the Events DC Nation's Triathlon To Benefit The Leukemia & Lymphoma Society, please visit NationsTri.com or follow @NationsTri on Twitter.
About Events DC
Events DC, the official convention and sports authority for the District of Columbia, deliver premier event services and flexible venues across the nation's capital. Leveraging the power of a world-class destination and creating amazing attendee experiences, Events DC generates economic and community benefits through the attraction and promotion of business, athletic, entertainment and cultural activities. Events DC oversees the Walter E. Washington Convention Center, an anchor of the District's hospitality and tourism economy that generates over $400 million annually in total economic impact, and the historic Carnegie Library at Mt. Vernon Square. Events DC manages the Stadium-Armory campus, which includes Robert F. Kennedy Memorial Stadium and surrounding Festival Grounds, the non-military functions of the DC Armory and Maloof Skate Park at RFK Stadium. Events DC also built and now serves as landlord for Nationals Park, the first LEED-certified major professional sports stadium in the United States. For more information, please visit EventsDC.com.
About Competitor Group
Headquartered in San Diego, Calif., Competitor Group, Inc. (CGI) is the active lifestyle industry's leading media and event entertainment company. CGI's portfolio of media assets span the full range of  the expanding endurance industry and include a robust digital community on the web and on mobile across the Competitor Endurance Sports Network of websites. With a leading market share of endurance enthusiasts, CGI owns and operates 83 events around the world, including the flagship Rock 'n' Roll Marathon Series, the TriRock Triathlon Series, the NFL Run Series and the REI Muddy Buddy Adventure Series, collectively delivering more than 600,000 professional and amateur participants in 2013. Anchoring the company with rich content and marketing leverage are five publishing properties dedicated to running, cycling, triathlon and the world of multisport including Velo, Inside Triathlon, Triathlete, Women's Running and Competitor with a combined monthly circulation of over 700,000. Further information about CGI and its digital, publishing and event entertainment properties can be found at CompetitorMediaKit.com.
# # #