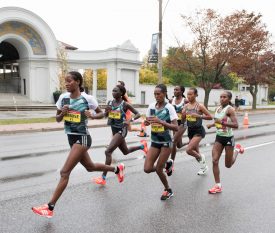 Sendafa is a small town 40 kilometres north east of the Ethiopian capital of Addis Ababa. On any given morning, as the sun rises above the nearby hills, large groups of runners gather with their coaches to run the dusty roads and to take advantage of the 2,500m elevation.
Ethiopian runners have had a major impact on the Scotiabank Toronto Waterfront Marathon, over the years, finishing amongst the top places with record breaking performances. All have trained in Sendafa.
Deressa Chimsa set the current men's course record of 2:07:05 in 2013 while Koren Jelela Yal recorded a Canadian All Comers' record of 2:22:43 in winning the 2011 women's edition of this IAAF Gold Label race.
Relationships with the world's premier athlete management companies have been the reason for these close ties with the Scotiabank Toronto Waterfront Marathon. The 2017 edition will continue this outstanding tradition on October 22nd.
The defending and two time Toronto champion, Shure Demise, is from the same training group as Chimsa and Jelela but, since she represented Ethiopia at the recent World Championship marathon in London (where she placed 5th) she will unable to make it three in a row. All are managed by Italian group, Demadonna Athletic Promotions.
For the past several years Gianni Demadonna, the owner of DAP, has depended upon noted Ethiopian coach, Gemedu Dedefo to develop a fine group of international middle and long distance runners. Dedefo's premier 5000m runner, Muktar Edris, beat British superstar Mo Farah to win the recent World Championships.
"My marathon training group is 25 men – marathon runners and some half marathon runners," Dedefo reveals. "On the women's side there are 29 marathon runners. They train together with me but, to control them better, men and women train on different days. This is only to follow the athletes better and to give attention to everybody.
"Every time they plan to run a marathon the expectation is high. Our first goal is to win the race, not just to run. Every race is important for us. When we put an athlete in a marathon everybody (in the group) pays attention to his race."
Other management teams have also sent their best athletes to Toronto. When Koren Jelala Yal set that Canadian All Comers record – which is still standing today – the second-place finisher was Mare Dibaba (2:23:25). She went on to win the 2015 World Championships marathon and earn a bronze medal over the distance at the 2016 Rio Olympics.
Dibaba is coached by Haji Adilo an employee of Elite Sports Management International and a former classmate of the great Haile Gebrselassie. Among his enormous group, which numbers well over one hundred, is Amane Gobena, the 2009 Toronto Waterfront Marathon winner.
Each of the major management groups have small buses they use to transport some of the athletes from Addis to Sendafa. The more affluent athletes, those who have earned appearance money and have shoe contracts, drive themselves.  After giving their runners instructions the coaches hop aboard the buses and follow them as they wind their way along the roads and into the hills. They shout encouragement and watch carefully for signs of strength and weakness.
Getaneh Tessema coaches a group of about one hundred athletes and is aligned with the Dutch group Global Sports Communication.
"Some of the athletes come from the place where we are doing our training," Tessema says. "Some come from different areas just for the training. They rent a house there and sometimes they have to do some labour work to support themselves. If they have other work it is too difficult to join all the workouts. But if I think somebody is strong enough to compete I will ask (Global Sports) to arrange a competition."
Getaneh Tessema is sending Solomon Deksisa, who ran 2:06:22 at the 2016 Rotterdam Marathon, to Toronto Waterfront this year with high expectations.
Volare Sports another Dutch management company, which represents many of the top Kenyan marathoners, has recently set up a training group in Ethiopia. They have confirmed a young woman who is one of the most exciting prospects to come to Canada.
Hiwot Gebrekidan ran a 2:25:45 Course Record to win Israel's Tiberius Marathon this past January. Just 22 years old she led the Scotiabank Ottawa Marathon in May by a wide margin up until the final kilometre when she was overtaken. She still managed to hold on to second place. Gebrekidan could be the next Ethiopian star.
Born in Adigrat, Tigray Region in the far north of Ethiopia she moved to Addis Ababa in 2015 to pursue her running career and be coached by national coach Baye Asefa. She rents a home in the capital which she shares with a younger sister.
"During my race in Ottawa I was not healthy and I was not in shape after (winning the Cherry Blossom 10miles) in the USA," she says. "I felt pain in my knee and I didn't do good training because of my knee problem. In Ottawa I went out at 15km to push the pace. When I passed 25km I felt pain in my leg. From Ottawa I learned I have to pass my first half a lot faster than 1 hour 11 minutes and I can pass it same or faster for the second half.
"I haven't heard anything about the Toronto marathon but I think it is better than Ottawa because the Toronto marathon course record holder (Koren Jelala) was running with me in Ottawa and she was 8th. Last year she was the Ottawa winner with a time of 2:27. I think she ran 5 minute slower than Toronto (Waterfront) Marathon so I expect Toronto is better than Ottawa."
Although Gebrekidan's logic might be a method to boost her self confidence there is no denying her ambition.
"First I want to win the race," she declares. "I will be satisfied if I break the course record. I will try my best to break the course record."
It is too early to declare the favourites for victory but one thing is certain, Ethiopian runners will stamp their authority on this race October 22nd. The Scotiabank Toronto Waterfront Marathon is firmly planted on the Ethiopian calendar.
-30-
For more information and to enter this year's race:  www.stwm.ca
About the Scotiabank Toronto Waterfront Marathon:
An IAAF Gold Label race, the Scotiabank Toronto Waterfront Marathon is Canada's premier, big-city running event, the Athletics Canada National Marathon Championships, and the Grand Finale of the 7-race Canada Running Series. In 2016 it attracted 26,000 participants from 70 countries, raised $3.24 million for 182 charities through the Scotiabank Charity Challenge, and contributed an estimated $35 million to the local economy. The livestream broadcast was watched by more than 72,000 viewers from 129 countries. http://STWM.ca