Endurance Sportswire Executive Interview Series – Active Network's Byron Carroll
November 28, 2018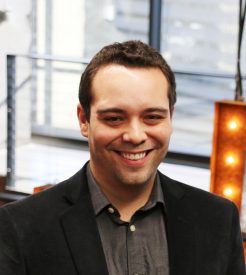 Active Network has experienced major changes over the last few years including going public, moving its corporate headquarter to Dallas, being acquired and more. But the biggest transformations have happened inside the organization and within its product offerings specifically.
I had the opportunity to speak with Byron Carroll, Senior Director of Product Management at Active Network about why the company changed its approach to product development, its acquisition strategy, how new technologies are going to impact race organizations and more. Enjoy!
Q: Please share a bit of your background and how you got into product management?
A: I've been in the product management field for nearly 10 years. As with most in the field, there isn't an established path to the role and I sort of stumbled into it post business school. I started a while back in college while working as a professional photographer for one of the world's largest auction houses. I realized that there were a lot of manual processes between photo capture, retouch, and cataloging to be automated. I detailed the return on investment and process flows in a presentation to the company's president and was given a handful of developers to build out the program. Before long, I found myself in product management without really knowing what a product manager was.
Q: You have held positions at some very large technology companies, what drew you Active Network?
A: I consider myself extremely fortunate to have been able to cut my product management teeth under the guidance of seasoned product management leaders at organizations like AT&T, IBM, and Sabre. The lens I view the business world through was shaped by these leaders and without them I don't think I'd be worth my salt today. I was drawn by the opportunity to build a portfolio of products and a product management team when ACTIVE Network moved its headquarters to Dallas. From a career standpoint, I've found great fulfillment in crafting ACTIVE's market strategy, rebuilding its products and mentoring a team of product managers.
Q: Through this market transformation at Active Network, the company moved from predominately an event registration company to an organization offering end-to-end solutions for race organizations. Tell us about that transition and your role?
A: When I began at ACTIVE Network 4.5 years ago, our business model was very much centered around event registration, and we weren't adapting to the growing needs of the market. We were losing customers and trust in the market because we didn't have a strong check-in solution, we didn't integrate well with scoring platforms, we hadn't paid attention to marketing and demand generation trends, etc. Through extensive customer interviews, research, and focus, my team and I repainted the organizational strategy and began executing on the goal of a holistic market solution; one focused on delivering standalone Endurance products for specific phases of the customer journey with the capability to scale to the entire ecosystem for additional value. I'm proud that in less than 4 years, we've built out a world class check-in and event day registration mobile app, a simple but powerful timing and scoring platform, an advanced spectator engagement mobile app, a robust digital marketing platform, and a live results site to rival the best in the market.
Q: The company seems to have significantly decreased its number of acquisitions to focus on developing technologies in-house. Can you share with us the strategy behind this?
A: ACTIVE Network has had an interesting run. The company launched into the online registration market in 1999, went public, was bought by a private equity company and sold in 2017 to a public company. Each one of these phases influenced the investment strategy at the company. Ten years ago, ACTIVE Network cared myopically about revenue which eventually led to a fragmented product line, with many bespoke registration platforms being acquired. Some of these acquisitions ended up costing more in integration work than the revenue ever delivered. At one point we had 5 or 6 online registration products in the Endurance market alone which made no sense from a portfolio management perspective. Today, the company still acquires technology and services but only when it makes sense, like in the case of IPICO. The technology was great (just needed a little more investment) and we thought it would work well with our overall lifecycle strategy, so we bought them. Virtual Event Bags, Team Pages, and several other notable acquisitions have been made in the past 3 years that complemented our offerings rather than creating redundancy and confusion in how we go to market. I think what you see in ACTIVE Network today is a healthy blend of build, buy, partner. We know what we're good at and play to our strengths. If something doesn't align with our strategy you won't see the company pursuing it. I personally love to build, and I think ACTIVE Network has the strongest engineering team in the industry. I've worked with many groups over the past 11 years and the teams that work on ACTIVE Network's solutions are among the most talented I've ever seen.
Q: What do you see as some of the biggest challenges race organizations are seeing today and how technology can help them?
A: The biggest challenge is understanding how to leverage technology to achieve differentiation, relevance, engagement, and personalization that encourages people to part with their money faster. These problems aren't unique to the endurance market. They're no different than those of the entertainment industry, travel industry, manufacturing industry, etc. These are problems that Apple is dealing with. They're problems Gap is dealing with. Tesla has these problems. American Airlines is trying to solve them. The real question to ask is, "What can't technology help me do?" The world gets more competitive every day and with new customer acquisition, race organizers are no longer simply competing with other race organizations; they're competing with Amazon, Netflix, Apple, and any other company who is buying for their consumers attention. Ask yourself, "What's in it for a consumer to go to your event?" Modern consumers expect a high level of crossover between their physical and digital lives and it's the event organizers job to deliver a unique experience; a humblebrag experience. There are amazing, powerful, simple solutions on the market for any business to effectively grow and reduce cost. Ask yourself if spending more time on creating a complex excel macro for bib assignment is really driving more people to your event. If it isn't, why spend more time on it when you can focus on other aspects of your business? Chances are your current event technology provider has a solution that can alleviate burden in a cost-effective manner and enable you to refocus attention on growing your business.
Q: What are some of the most exciting opportunities you see for race directors over the next three to five years?
A: I think the convergence of consumer technology with the event experience is very exciting. New technology like augmented reality, wearable technology, voice search, and machine learning are going to have a big impact on everything from how users find and register for an event to how they experience it. Broadcom, a chip supplier for smartphones, recently announced a GPS chip that can detect user location within 30 centimeters of accuracy, which could have interesting implications for self-timing. I read a paper the other day on quantum navigation, an upcoming technology that will allow GPS like navigation without the need for satellites. Machine learning and neural networks that are sophisticated enough to drive cars today won't have any trouble automatically tagging finisher photos faster than human. Innovation is alive and well within the Endurance industry. I'd encourage any event organizer to ask their technology provider what solutions they might already have available – you might be surprised.