Endless Mountains Adventure Race Debuts in Adventure Racing World Series
July 1, 2022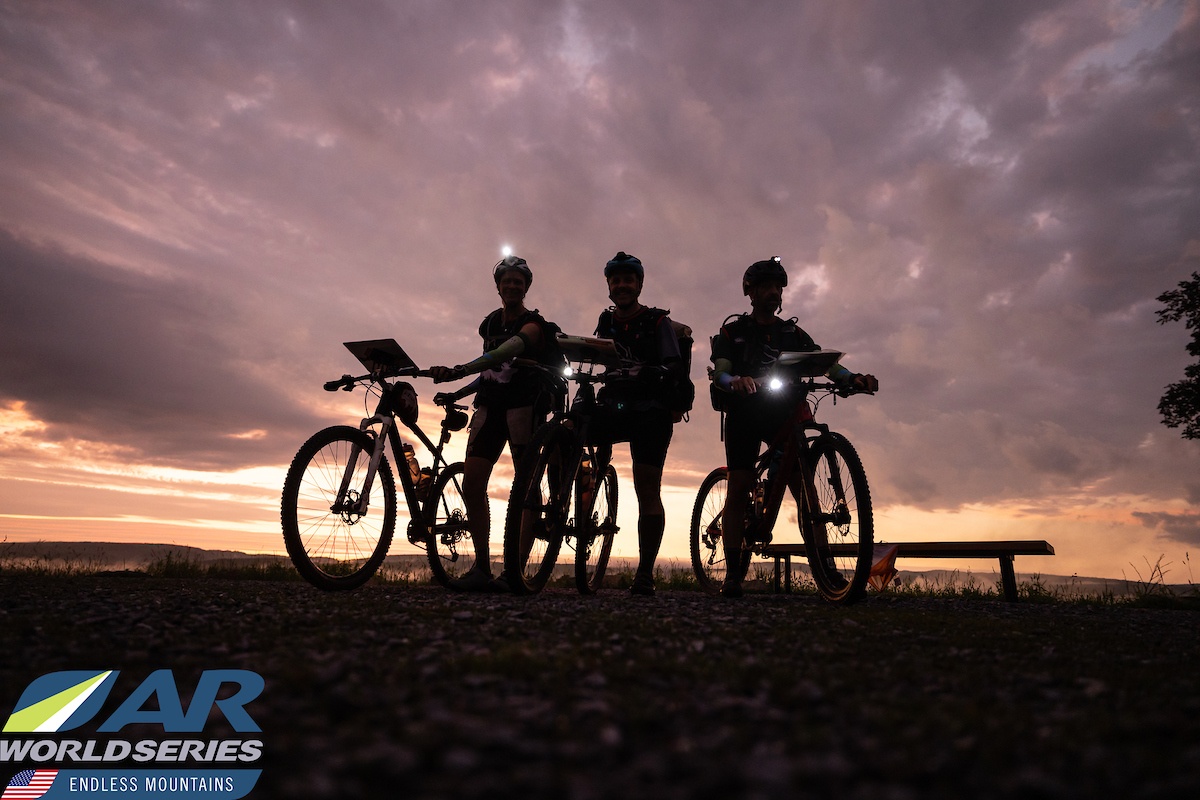 The new Endless Mountains Adventure Race, organised by Rootstock Racing, took place in Pennsylvania
/ENDURANCE SPORTSWIRE/ – The first Endless Mountains Adventure Race joined the Adventure Racing World Series this June as a demonstration race for 2022, attracting a strong entry of 32 teams.
Most of the competitors were very experienced US racers, drawn by the reputation and organising talents of Brent Freedland and Abby Perkiss of Rootstock Racing, and the chance to experience the wilds of Pennsylvania, a region new to many of them. They were not disappointed.
Perkiss explained how the race came about. "The race began to take shape in November 2020, when – needing an escape from Philadelphia but with state borders shut down due to the COVID-19 pandemic – we decided to rent a little cabin over Thanksgiving. That weekend, we encountered the Pennsylvania elk herd, and never looked back."
Experienced adventure racers themselves, with many ARWS finishes behind them, Freeland and Perkiss, were ready to add an expedition race to the Rootstock calendar. With the support of the USARA, the adventure racing and local communities, and the ARWS, the Endless Mountains race was on.
The racers assembled at Clarion University, but it wasn't until they arrived at the start location at Punxsutawney, after an early morning bus ride, that they were given the route and maps for the 5 days ahead.
The race start immediately showed the Rootstock Racing event style, featuring the local community and culture, navigation, and food, all of which would be themes for the race days ahead.
The maps were given out at the Fraternal Order of Eagles in downtown Punxsutawney, where racers were treated to a buffet breakfast as they planned their route. Then, at 10:00AM, they gathered for a ceremonial send-off, with Punxsutawney Phil, the state's most famous weather forecaster. Stage one was an orienteering run around the town, finding fourteen 'fantastic Phil' statues, before teams make their way to Gobbler's Knob (the site of Phil's annual weather prediction) to pick up their bikes and begin their five-day and 550-kilometer journey.
Teams decided their own route on stage one, so from the start line they headed off in all different directions!
The course was designed to offer a strong navigational challenge so there were several stages like this, and there were optional checkpoints as well, to allow teams to race a course best suited to their abilities, and to encourage them to make strategic choices.
The pre-race breakfast was the first of several hot food and drink options laid on along the route. Burritos, ice cream, burgers and even beer were available or provided by local outlets, and Perkiss and Freedland's own racing experience showed here. They know food keeps racers happy!
So does an engaging and varied course, and their route sought out the best locations for paddling, mountain biking, trekking and orienteering in the PA Wilds. These often had historic significance for the region, or unique land use and wildlife.
An early packraft stage on the West Branch Susquehanna River saw teams jumping out and splashing among the rocks with their rafts, due to low water levels. It was why packrafts were used rather than canoes, and at the end of the stage teams chose whether to paddle to checkpoints or to pack their rafts and go on foot.
The next cycle stage included one of those unique locations which might have been created just to provide adventure racers with a playground. This was Bilger's Rocks in Clearfield County, a collection of sandstone boulders perfect for scrambling, climbing and caving.
Tomas Diaz of Team THISability described what happened. "We arrived at this place around 2am and we were given a sketch map to hunt for checkpoints hidden between crevasses and inside caves on these rock formations. It was so cool going all around the rocks and tight spaces in the dark with our headlamps. A great highlight."
There were more boulders, and lots more navigation, on the following trek in the Quehanna Wilds Area, which was to be a turning point in the race.
The area covers over 48,000 acres of protected land, spanning three counties and two state forests. A symbol of Pennsylvania's complicated historical relationship between industrial development and green space, the land was home to a nuclear research centre in the 1950s. Remnants of that infrastructure still remain and racers would come across these as they searched for checkpoints.
The stage was described as "strategy-focused and navigationally-intensive", where "teams will be rewarded for sharp route choice decisions and efficient off-trail travel. The fastest teams may be able to escape the wilds in 24 hours – if they nail the navigation. Some may spend a full 48 hours in what is one of the most isolated areas of the state."
That promise was delivered on. Until this point the pre-race favourites, Bones Adventure Racing, and Bend Racing had been swapping the lead, with Rib Mountain Racing not far behind. All expert and experienced navigators, they looked at the same map, with the same checkpoints marked, and set off in opposite directions. Bend took an anti-clockwise route, and the other two teams went clockwise.
It went to plan for Bend, who returned to their bikes with a big lead, but not for Bones. They couldn't find checkpoint 25 in a boulder field and lost many hours searching, even going back to the area, but still failing to find it. Later they almost headed off the map in the wrong direction and to add their woes Charles Triponez was suffering from a knee injury. They spent 48 hours on the trek, 24 hours longer than expected, and although they had the spirit to go on, they subsequently had to pull out due to the knee injury. It was a painful experience in every way for one of the top US teams.
For all but the elite teams, this was where they had to make difficult choices about which checkpoints to miss, if they'd not done so already. The final ranking would be based on checkpoints scored, and there was a finish line cut-off. So they had to judge how much time and energy they had, and how many, and which checkpoints to go for. As they were sleeping at most a couple of hours a night, these were difficult choices.
A few teams saw snakes in Quehanna and the next mountain bike ride took teams through the heart of Pennsylvania's Elk Country, which was the stage for which the race was built.
After the race Tim Buchholz of Team Rib Mountain Racing summed up his team's wildlife sightings during the race. "We saw elk, eagles, rattlesnakes and copperheads (almost stepping on one will wake you right up when you're getting tired in the middle of the night!), porcupine, deer, and a bear!"
The final stage of the race was a long paddle down the Clarion River, which is designated 'Wild and Scenic'. The paddle was interspersed with two orienteering stages with optional checkpoints, and by this stage most teams were timing their 'run to the finish'.
Bend's lead had been reduced, and like all of the teams they were footsore and struggling to stay awake on the water. Lebn Lovejoy was carrying an ankle injury, Jason Magness started the last trek in flip flops to ease battered feet, and Chelsey Magness had stomach problems. Just because a team is at the front of a race, it does mean they are not suffering like every other team.
Despite this they stayed some hours ahead of Rib Mountain Racing and crossed the finish line in Clarion to win in a time of 110 hours 51 minutes and 57 seconds. (With a different team line up Bend Racing had won the ARWS qualifier Expedition Canada just a couple of weeks earlier, so this was a second ARWS win in a row.)
Jason Magness said he was very surprised by how rugged and wild some of the Pennsylvania outdoors was and Danish racer Lars Bukkehave added, "Even though it was a first international event for Rootstock Racing, everything was spot on and all the American culture during the event was really cool."
Buchholz from second placed Rib Mountain Racing described the race as "an immersive way to experience the surprisingly rugged and beautiful wilds of Pennsylvania" and another racer commented; "we were able to take advantage of two years of scouting by Rootstock Racing to find the coolest spots in the region."
At the final count, only 3 teams collected all of the checkpoints, with the Rootstock Racing team completing the podium places, and all except Bones Adventure Racing crossed the finish line, however they say they will be back.
"When designing and running a race of this magnitude, I'm sure you leave a little bit of your soul out there.
"Even though we only saw roughly 50% of the whole course, the attention to detail (names on bibs), to the thoughtful (burrito food truck at transition), and the "racer experience" (course layout, strategic options, discipline variety), Abby and Brent have created a must-do expedition experience.
"The Mountain may have won this round, but we will be back in 2023, not only to slay our new demon, but to experience the magic of the Endless Mountain Adventure Race once again."
When the Endless Mountains AR becomes a full ARWS qualifier next year they will no doubt be racing with many more international teams, looking to experience Rootstock Racing's Endless Mountains. Race dates are June 26th– July 1st.
You can find out more about the Endless Mountains AR at https://www.endlessmountainsar.com/ and on the Rootstock Racing Facebook page https://www.facebook.com/rootstockracing
The Adventure Racing World Series 2022 is made up of 10 of the world's premier Expedition Adventure Races, held on 5 continents. The Adventure Racing World Championship will be staged in Paraguay in September. The Endless Mountains AR was an ARWS Demonstration race this year.
The next race in the series is Huairasinchi, taking place from July 22nd to 28th.