Elite Launches the Suito Trainer
July 16, 2019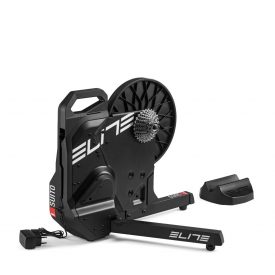 Introducing Elite's first totally assembled interactive hometrainer.
INTRODUCING THE SUITO
Meet the Suito ("Sweet-oh"), Elite's newest hometrainer that sits squarely in their range of indoor cycling interactive hometrainers. The Suito is a solid, powerful and accurate hometrainer that not only appeals to cyclists for the upcoming indoor training season, but also offers the best possible comfort for indoor bike training workouts. And it does this fully assembled, right out of the box.
PRE-ASSEMBLED
The Suito features a pre-installed Shimano® 11-speed cassette and is Elite's first fully-assembled and ready-for-use hometrainer. Its easy Plug & Play configuration is designed for cyclists to begin training as quickly as possible. How quick? In less than five minutes. No cassette to install, no other components to assemble.
SOLID & COMPACT
As soon as you see the Suito (in or out of the box), you'll notice its small footprint. This allows dealers to carry inventory without sacrificing space and the consumer to store it without the need for an entire "trainer room." The optimized design ensures compatibility with various bikes and sprocket sets on the market, while the aggressive steel structure provides the stability cyclists desire during even the most intense sprints.
POWERFUL, ACCURATE, COMPATIBLE & PRICED JUST RIGHT
The Suito can simulate up to 15% slope with a +/- 2.5% accuracy — one of the highest in Elite's range of interactive bike hometrainers. Additionally, (thanks to a cooperation between Elite and Zwift) anyone who purchases a Suito, receives a 1-month free subscription to Zwift and a 12-month free subscription to My E-Training. Choose the software, select the course or bike training program and start pedaling. The Suito will automatically adjust resistance.
Available in stores and online mid-September: MSRP $799.
Elite, a company of cycling enthusiasts, has been offering unique and cutting-edge products to the cycling world for forty years. This self-financed, award-winning brand manufactures locally in Italy; specializing in R&D, production and marketing of hometrainers, bottles and bottle cages.  They provide equipment to over half the world's professional cycling teams, allowing them to be on the cutting edge of the cycling world's needs and wants.
*Press Contact: Katie Macarelli / Thorpe Marketing, katie@thorpemarketing.com