Diversity, equity and inclusion webinar to be hosted by US Trail Running Conference
February 23, 2022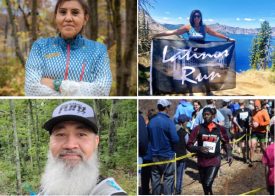 Leading BIPOC community members to share personal insights and lessons learned
/ENDURANCE SPORTSWIRE/ – Active at Altitude, organizers of the US Trail Running Conference, announces that the second in their 2022 webinar series, presented by Marathon Printing, will be centered on Diversity, Equity and Inclusion (DEI) on February 24, 2022 11.00 am – 12.00 noon MST. The webinar, sponsored by Salomon, will focus on providing guidelines for increasing BIPOC (Black, Indigenous and People of Color) diversity in the sport, and on appropriate imagery.
Expert panelists for this webinar are Verna Volker, founder of Native Women Running, Maria Solis, founder of Latinos Run and Latinas Run, and Wil White and Rob Palmore, trail ambassadors with Black Men Run. Each panelist will share personal insights and lessons learned from experience as runners of color within the sport of trail running to help guide race directors and event organizers to take action steps to welcome a more diverse audience of runners for their races or events.
The webinar series kicked off on February 3, with a session focused on how to analyze and produce carbon neutral races. Each webinar features industry leaders in their respective fields, and offers information that can boost a Race Director's knowledge and afford insight into innovative practices to implement at their events. During each webinar, registered participants receive guidelines or checklists that details key actionable items, and there will be an opportunity to follow up on deliverables in-person at the 2022 US Trail Running Conference to be held October 19-22, in Mukilteo, Washington. The webinar series is held in partnership with the American Trail Running Association. Registration for each webinar or the entire series is free. A recording of each session is also available after each live session.
Event Director for the US Trail Running Conference and the webinar series, Terry Chiplin, comments: "We are very excited to have these running change makers join us for this webinar on this important subject of DEI focused on BIPOC within trail running. We are confident that the information our panelists share will be critical to help race directors and event organizers be successful in attracting more runners of color to their events, and look forward to changes in diversity at races and events around the United States as a result. We are thankful to series sponsor Marathon Printing and session sponsor Salomon for their support to make this free webinar on this important subject widely available."
Details at https://ustrailrunningconference.com/webinar-series/
For additional details contact Event Director, Terry Chiplin,
terry@ustrailrunningconference.com, or 303-304-9159.
#TrailConference #trailrunning #snocosports #snohomishcounty #PlayPNWSports #mukilteo #activeataltitude #atra #marathonprinting #TrailRunningIsForEveryBody