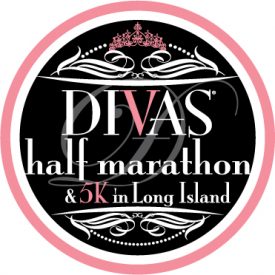 Nassau County hosts women's-focused half marathon & 5K for ninth year in a row
Miami, FL – Continental Event & Sports Management Group, and the Divas® Half Marathon & 5K in Long Island, returned to Eisenhower Park, in East Meadow, New York, on Sunday, October 7th. It was a sight to behold as participants from 25 states, DC, Ireland, Canada and Costa Rica, joined one another for the ninth annual race. It was beautiful 70-degree weather, albeit a bit humid, as light mist kept runners cool as they toured through Nassau County.
The 5K began at 7:15 AM local time with Michiko Clarke, from Westbury, NY, crossing the finish first in a time of 20 minutes and 44 seconds. Raquel Apuzzo, from Lindenhurst, NY, came in second in 21 minutes and 7 seconds. Samantha Marrone, from Holbrook, NY, finished third with a time of 21 minutes and 55 seconds.
In the half marathon, Meg Dwyer, from Huntington Station, NY, placed first finishing in 1 hour, 30 minutes and 17 seconds. Gail Machado, from Yonkers, NY, finished second with a time of 1 hour, 31 minutes and 31 seconds. Laura Rodriguez, from Bronxville, NY, rounded out the top three with a time of 1 hour, 33 minutes and 30 seconds.
"This year's event was wonderful." said Robert Pozo, President and CEO of Continental Event & Sports Management. "The support from all the Nassau County Departments made this race seamless. With an overcast sky and a cool mist the runners had a very comfortable run in anticipation of the Fall that seems to not yet arrived."
Photographers from EP Events captured excited participants as they crossed the finish line, clad in pink tutus, feather boas and tiaras. Runners were awarded their finisher medals, complete with a Pandora-compatible charm, in pink velvet pouches and toasted to their accomplishments with a flute of LiDestri Pink Lemonade cocktail. Bare Snacks provided their fuji apple and reds apple chips while Beanitos and ZonePerfect provided samples of their all-natural snack chips made from beans and nutrition bars, respectively.
Continental Event & Sports Management would like to thank Nassau County, Discover Long Island and the Greater Long Island Running Club, and its hundreds of volunteers, for their help in making this a event a success.
Full results are available at www.runlikeadiva.com/results.htm.
###
About The Divas® Running Series:
The Divas® Running Series is a group of female-inspired running events throughout the United States consisting of a Health & Fitness Boutique, a 5K road race and a half marathon race and finish line experience. Each of the Divas® events consists of additional activities geared toward women including a boa & tiara station, "bubbly" toast at the finish and fun entertainment along the course. Now in its ninth year, the race series received the highly coveted SportsTravel Award for Best Amateur Series or Circuit in 2012, 2013 and 2016. Event locations include Galveston, TX, North Myrtle Beach, SC, San Francisco Bay, CA, Toronto Island, Canada, Calgary, Canada, Peachtree City, GA, DC's Wine Country, VA, Long Island, NY, San Juan, PR and Temecula, CA. For more information, please visit www.runlikadiva.com.
About Continental Event and Sports Management Group, LLC:
With world-class running events such as the Divas® Running Series and the Myrtle Beach Mini Marathon, Continental Event and Sports Management Group, LLC is one of the premiere sports management companies in the United States. Robert and Gaby Pozo, founders and managers of Continental, have over 17 years of experience in the race production industry providing unparalleled events to participants and their host communities.
Contact:
Robert Pozo, President & CEO
Continental Event & Sports Management Group, LLC
rpozo@usruns.com
www.continentalroadracing.com