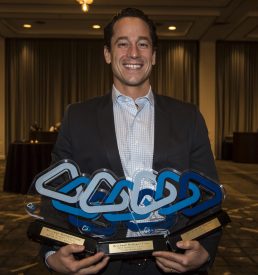 DelMo Scores Three Top Honors
DelMoSports, LLC, a boutique race company specializing in elite destination events along the southern New Jersey shore and Delaware took top honors in three categories during the Triathlon Business International 2017 annual conference in Dallas, Texas.  IRONMAN 70.3 Atlantic City was voted Best Large Triathlon and Tri the Wildwoods Triathlon & 5k won Best Small and Best Beginner Triathlon.  The races were all nominated and voted on by triathletes.
Triathlon Business International is the world's leading organization dedicated to promoting the sport and business of triathlon.  "Being acknowledged by Triathlon Business International, acknowledges our commitment to the sport of triathlon and the passion we have for creating high-quality, athlete-centered productions," said Stephen DelMonte, Founder/CEO of DelMoSports.  "We strive to not only make sure our events provide challenging courses, but that they also have spectacular scenery and amazing vacation opportunities for our athletes and their families."
More than 3,200 athletes voiced their opinions by voting for Triathlon Business International's Triathlete's Choice Best Events of 2016.
##
DelMoSports, LLC is a boutique race company founded in 2004, specializing in elite destination events along the southern New Jersey shore and Delaware.  Their unique and award-winning events include IRONMAN 70.3 Atlantic City, the Atlantic City Triathlon, Tri the Wildwoods Triathlon, Escape to Lewes Open Water Swim Classic and Escape the Cape Triathlon, which was voted the Best Triathlon in the Mid-Atlantic and Northeast Regions by Competitor. Known for high quality, athlete-centered productions with an emphasis on community involvement, DelMoSports, events provide challenging courses, spectacular scenery and amazing vacation opportunities for athletes and their families. www.delmosports.com