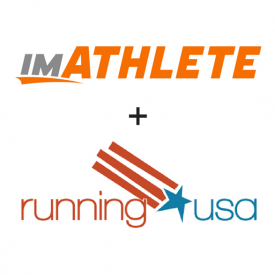 Running USA and imATHLETE announce the second webinar in a year-long series, with valuable data around runners' travel habits and how they can inform your marketing decisions
Los Angeles, CA (July 31, 2018) – Registration is now open for the second webinar in the Running USA and imATHLETE data insight series, which will focus on runners' travel habits and preferences for races of all distances and seasons.
The data presented by imATHLETE CEO Jeff Matlow will be especially useful for events trying to optimize their marketing and advertising budgets and wondering how to best target potential out-of-town runners.
"This second webinar in the Data Insight Series should be very useful for our event members as they plan future marketing efforts," said Christine Bowen, vice president of programming, partnerships and operations for Running USA. "Runners' travel habits are something of a mystery that will become far more understandable in this presentation."
"We have analyzed tens of millions of data points and a mind-blowing amount of registration analytics. The takeaways can change the way you spend your marketing dollars. Join us for some dramatic insights, more than a few laughs and what's turned out to be the most popular webinar series in Running USA history," said Matlow.
Set for Tuesday, Aug. 7 at 11am PST, you can register for the webinar here.
The Data Insight Series webinars focus on key data insights about endurance athletes and how the information can be utilized to solve business challenges and drive growth. The first webinar, presented in May 2018, focused on runner retention rates and ways to improve them to drive event growth. Running USA members can access a recording of that presentation on RunningUSA.org.
About imATHLETE
imATHLETE blends registration, coaching and e-commerce technology with the social communities inherent in running, triathlon, cycling and all participatory sports. Recognized as a leading force in the sporting world with its industry-changing registration technology, imATHLETE is one of the fastest growing companies in the market. Their technology is transforming the relationship between event organizers and their participants. Learn more about imATHLETE at www.imATHLETE.com and at their blog at blog.imATHLETE.com/blog. Follow them on Facebook at IAmAthlete, on Twitter @IAmAthlete and on Instagram @imATHLETE.
About Running USA
Running USA is a tax-exempt, not-for-profit organization devoted to improving the status and experience of distance running and racing in the United States through collective marketing and promotions, information and communications within the industry and to the national media, services to events and industry members, and the development of American world class stars. It seeks the advancement of the sport and the provision of value to each of its members' events and businesses. For more information, visit RunningUSA.org