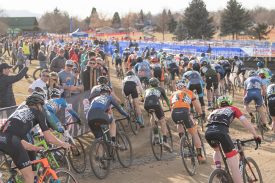 Colorado Springs, Colo. —  The nation's top cyclocross racers head to Louisville, Ky. next week for the USA Cycling Cyclocross National Championships. A total of 45 competitions will be contested at Joe Creason Park, Dec. 11-16, with 38 races crowning national champions for the 2018 season.
Races will be held from dawn to dusk at Joe Creason Park on the cyclocross course that made its debut at the 2017 Derby City Cup and Pan-American Cyclocross Championships. Centrally located in metro Louisville, it is the first time Joe Creason Park has hosted cyclocross races.
Expected to attract nearly 2,000 competitors for the six-day event, competitions begin Tuesday, Dec. 11, with five non-championship races for men and women. For the balance of the week, winners of the coveted Stars-and-Stripes award jerseys will be determined in Junior, Senior, Collegiate, Under-23, Masters and Elite categories.
Sunday features the final showdown for the top cyclocross racers in the country, many who have competed in the USA Cycling Professional Cyclocross Calendar (ProCX). Among the athletes who will be on hand to defend their titles are reigning elite national champions Katie Compton (Colorado Springs, Colo./KFC Racing p/b Trek Knight) and Stephen Hyde (Easthampton, Mass./Cannondale p/b Cyclocrossworld.com). Compton will go after her 15th consecutive title in the elite women's field. Hyde will set his sights on a third championship.
Challengers in the elite women's field include the top three ProCX points leaders – Ellen Noble (Kennebunkport, Maine/Trek Factory Racing CX), Kaitie Keough (Colorado Springs, Colo./Cannondale p/b Cyclocrossworld.com) and Rebecca Fahringer (Concord, N.H./Kona Maxxis Shimano). Ranked No. 1 entering the championships, Noble has finished on the podium in all 11 ProCX races this season, including seven victories. She won two bronze medals in July at the U.S. Mountain Bike Nationals (cross- country, short track cross-country). Keough, ranked second in ProCX, comes to Louisville fresh off two wins at the NBX Gran Prix of Cyclocross, held in Warwick, R.I. Dec. 1-2. Fahringer scored her eighth and ninth podiums of the season at NBX weekend.
The top ProCX points leaders for elite men will be gunning for a championship. Kerry Werner (Birdsboro, Penn./Kona Maxxis Shimano), who has held the No. 1 ranking since the opening race weekend at Deschutes GO Cross in Virginia, Sept. 1-2, is looking to improve on the bronze-medal finish at the most recent Cyclocross National Championships, held in January 2018 in Reno, Nev. Curtis White (Delanson, N.Y./Cannondale p/b Cyclocrossworld.com), who moved into second place overall in the ProCX standings, has 11 podiums this season and captured the series title for the 2018 Vittoria Northeast Cyclocross Series presented by Clif Bar and Cycle-Smart.
Online registration is open until Dec. 8, 1:59 a.m. MST. For online registration, click here.
ProCX FINAL WEEKEND
The final race weekend of ProCX wraps up Dec. 8-9 at two events, Ruts N' Guts Presented by Team Air Assurance/AVB Bank in Broken Arrow, Okla.  and the Hunter Subaru North Carolina Grand Prix (NCGP) in Hendersonville, N.C. Juniors will be able to race for free at both events.
In its ninth year, Ruts N' Guts returns to Chisolm Trail South Park. On Saturday, Ruts N' Guts provides the final installment of seven Category 1 races for the calenar. A Category 2 race will take on Sunday, as well as a fully-supported Chicken-Waffle-Bourbon Ride for recreational cyclists. The NCGP returns for its 14th season and two full days of C2 races at Jackson Park. In addition to support from Hunter Subaru, Henderson County Parks & Recreation Department will partner with North Carolina Cyclo-Cross to host the family-friendly event. 
CX NATIONALS VENUE
The challenging course at Joe Creason Park includes elevation changes, one flyover, one set of barriers, limestone stairs, a sand pit and off-camber ground. Many of these features will force riders to dismount their bicycles and run. Check out the map here. The Louisville Tennis Center is located on the southern corner of Joe Creason Park and will serve as race headquarters, as well as onsite registration and packet pick-up for the week of the event. This facility is equipped with showers, lockers, and changing rooms.
WATCH LIVE
Live streaming will be available on USA Cycling's YouTube channel on Sunday, Dec. 16.  You can catch the Junior Men's, youth Women's (ages 17-22), U23 men's, Elite Women's, and Elite Men's races LIVE beginning at 9 a.m. ET. Announcers for the broadcast are Brad Sohner and Meredith Miller.
FOLLOW ONLINE
More information about the USA Cycling Cyclocross National Championships 18.2 (including start lists, schedule, results, photos, and event recaps) will be available on the event webpage. You can also follow on all USA Cycling social channels using hashtag #CXNats.
VENUE ACCESS
Wristband admission is $20 per person including tax, which is good for the entire event week. Food and beverage are priced separately. Free vehicle parking will be available at the Louisville Zoo. Beer will be sold by Against the Grain Brewery; food will be provided by Black Rock Grille, POLLO, Moe-Licious BBQ and Blackbeard Expresso food trucks.
MEDIA INQUIRIES
Guillermo Rojas, USA Cycling, grojas@usacycling.org, mobile: 719-231-8369
Jackie Tyson, Peloton Sports, sportsPR@pelotonsports.net, mobile: 678-362-6228
###
About Louisville Sports Commission
The Louisville Sports Commission (LSC) is a Louisville, Kentucky-based 501(c)(3) organization whose mission is to create a legacy of economic and social vitality through sports. The LSC attracts and hosts sporting events and activities that have a positive economic impact on Louisville, enhance the area's image as a premier sports destination, promote active lifestyles and improve the quality of life for community members of all ages, and connect local businesses with student-athletes for future job opportunities. More information is available online at www.louisvillesports.org and www.facebook.com/louisvillesportscommission.
About USA Cycling (usacycling.org)
USA Cycling is the national governing body for the sport of cycling in the United States and oversees the disciplines of road, track, mountain bike, cyclocross, and BMX. With a mission to develop the sport of cycling in the United States at all levels and to achieve sustained international racing success, USA Cycling supports enthusiasts just beginning in the sport to seasoned professionals. The organization administers the identification, development, and selection of cyclists to represent the United States in international competition, and equally important is its support of amateur bike racing through grassroots development programs and the provision of critical infrastructure to run organized racing. Recently, USA Cycling broadened its mission to support enthusiasts and the events in which they participate like gran fondos and fun rides.
USA Cycling is headquartered in Colorado Springs, Colo., at the center of U.S. Olympic movement with peer institutions such as the United States Olympic Committee, U.S. Anti-Doping Agency, and dozens of other U.S. National Governing Bodies. USA Cycling began in 1920 as The Amateur Bicycle League of America and evolved through the decades to become United States Cycling Federation in 1975 and ultimately USA Cycling, Inc. in 1995. USA Cycling's roughly 60,000 members are comprised of racers and cyclists of all ages and abilities, coaches, officials, mechanics, and race directors.