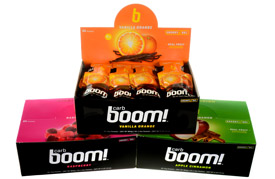 Boom Nutrition to be Official Energy Gel of CTS
(Colorado Springs, CO – Feb 12, 2015) – In a joint statement today, CTS and Boom Nutrition® announced a new partnership beginning immediately.  Under the terms of the multi-year agreement, Boom Nutrition's Carb Boom! Energy Gel® will be the Official Energy Gel of CTS, the coaching choice of more than 15,000 amateur and professional athletes over the past 15 years.
The two companies will work together to educate athletes on the optimal application of sports nutrition for superior performance. Boom Nutrition will supply Carb Boom! Energy Gels for use by coaches and athletes during all CTS Camps, Bucket List events, and coaching activities.
CTS-coached athletes will also have the opportunity to purchase Boom Nutrition products at a special athlete discount through the CTS Member Perks Program.
"Boom Nutrition's products and the science behind their fruit-based formulations align with our philosophy on sports nutrition for performance athletes," said Chris Carmichael, CEO and Founder of CTS. "Integrating Boom Nutrition products into the range of foods and drinks available to CTS Athletes will improve performance in training sessions and during camps and events."
"Boom is dedicated to providing the best tasting, best performing sports nutrition products for endurance athletes. We are a natural fit with the premier coaching organization in the endurance community." said Tony Lammers, President of Boom Nutrition. "CTS Camps and Bucket List events are great ways to meet and share our products with the most serious, dedicated and influential endurance athletes. CTS Coach-provided education and nutrition plans, that teach athletes how to use our products to maximize performance, will fuel many personal bests this season." said Lammers.
About CTS
A pioneering company in the endurance coaching industry, CTS has improved the performance of more than 15,000 athletes over the past 15 years. Founded by renowned coach and author Chris Carmichael and home to more than 40 full-time, professional coaches, CTS provides personal coaching, training camps, and Endurance Bucket List experiences to athletes of all ability levels. For more information, visit www.trainright.com.
About Boom Nutrition
Boom Nutrition Inc., is a Cleveland, Ohio-based sports nutrition company that develops and delivers nutrition products that improve the performance of endurance athletes everywhere. Known worldwide for its great taste and great performance, Carb Boom! Energy Gels® are the official on-course energy gels at endurance events nationwide. For more information about Carb Boom! Energy Gels®, go to www.boomnutrition.com.
###
Jim Rutberg
+1 719.635.0645 x118
jrutberg@trainright.com