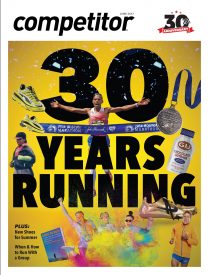 Competitor, the leading American running magazine, commemorates its 30th anniversary with the June issue. Readers will enjoy an in-depth look back at the publications' history and top stories with co-founder and endurance-sports legend Bob Babbitt.
Launched in 1987 by Lois Schwartz and Bob Babbitt, Competitor initially started as a regional publication that covered running, cycling, and triathlons in Southern California. Over time, the magazine has defined itself to become the true authentic voice of running in America and has expanded all over the United States, reaching more than 580,000.
"Our inspiration for Competitor stemmed from the athletes we were meeting and their incredible stories.  It's not only the elite athletes that have adventures and insights, but all athletes,' says  Jessie Sebor, Vice President of Media at Competitor Group, Inc.  'Sharing these stories of perseverance through running has allowed us to connect, move and inspire readers, and that's what Competitor is really about."
The founders credit a grassroots strategy for the initial growth of Competitor and personally handed out the magazines at races, introducing the brand and culture to elite runners, new runners, and interested spectators alike.  Over the years, the magazine has featured a variety of runners sharing their personal journeys and how the sport has helped them overcome obstacles and enrich their life.
"The Competitor brand has always been about changing lives through endurance,' says Sebor. 'We hope to continue changing people's perceptions of themselves through achievements at any level.  All it takes is to put on a pair of running shoes and you can change everything."
Other stories in the issue include 'New Summer Trail Shoes,' 'When and How to Run With a Group,' and 'Cross-Training: At-Home Boxing Routine.'
Cover photo attached for your use. Credit: Competitor Group, Inc.
Additional photos available upon request.
PRESS CONTACTS:
Maggie Fitzgerald | Maggie@hatchedpr.com
Christina Zamarripa | Christina@hatchedpr.com