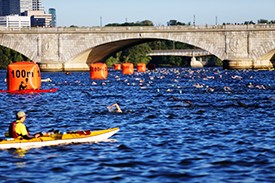 Etihad Airways Launches First Sports Sponsorship In Washington DC
Washington DC – July 12, 2013 – Etihad Airways is the new official airline sponsor of Events DC's Nation's Triathlon, marking the Abu Dhabi-based airline's first entry into sports sponsorship in the US capital. The deal will see the airline support the Nation's Triathlon through flight provision for athletes and other promotional activities, as well as forging a partnership between the Nations's Triathlon in Washington D.C. and the Tri Yas Triathlon in Abu Dhabi.
The announcement was made in Washington DC by Competitor Group, Inc. (CGI), which runs Events DC's Nation's Triathlon. The 2013 edition of the Events DC Nation's Triathlon will take place on Sunday, September 8, and will welcome 5,000 participants to one of the largest international distance triathlons in the United States.
Peter Baumgartner, Etihad Airways' Chief Commercial Officer, said: "We are delighted to support the world renowned Nation's Triathlon in Washington DC and its sister race, Tri Yas, which takes place in our home of Abu Dhabi.
"Etihad Airways launched its daily service to Washington DC in March this year and the partnership gives us an ideal opportunity to support two fantastic sporting events in two of the world's leading capital cities."
Molly Quinn, Vice President of Triathlon Events at CGI, said: "The Events DC Nation's Triathlon has truly become a global event, welcoming participants to our Nation's Capital from around the world.
"This airline partnership also creates a sister city relationship between two premier triathlons, the Events DC Nation's Triathlon and Tri Yas, elevating each race's opportunity for international exposure.
"Both events take place in capital cities and Etihad Airways will be the common link between these two triathlons in cities between which Etihad Airways recently started direct flight services."
With its spectacular course and world-class reputation, the Events DC Nation's Triathlon features several races-within-a-race including a Gryphon Technologies Military Challenge, open to active duty military and veterans, Congressional Challenge, open to federal and Hill employees, the Commander-in-Chief Challenge, open to participants from the military academy tri teams, and the Etihad AirwaysTri Club Challenge, for triathlon club members.
The Nation's Triathlon is renowned for a scenic course that winds through the National Mall and Memorial Parks including a 1.5k swim in the Potomac River, 40k bike course through the streets of Washington and Maryland, before finishing with a 10k run through Washington DC's historical landmarks with a spectacular finish south of the FDR Memorial.
The event weekend kicks off with a two-day REI Health & Fitness Expo, which is open to the public on Friday, September 6 and Saturday, September 7 at the Washington Hilton. The free expo is where all race participants go to pick up their race packet and features more than 50 vendors with the latest in triathlon gear, nutrition samples, souvenirs and a series of interactive clinics.
Building off of the success of its seven year partnership, the Leukemia & Lymphoma Society is the official and exclusive charity of the event, which is the only triathlon in the country to benefit research toward a cure for blood cancers. Through the Team In Training program, participants have raised more than $12 million for blood cancer research and patient service programs.
For more information about the Events DC Nation's Triathlon To Benefit The Leukemia & Lymphoma Society, please visit NationsTri.com or follow @NationsTri on Twitter.
About Etihad Airways
Etihad Airways, the national airline of the United Arab Emirates, began operations in 2003, and in 2012 carried 10.3 million passengers. From its hub at Abu Dhabi International Airport, Etihad Airways serves 94 passenger and cargo destinations in the Middle East, Africa, Europe, Asia, Australia and the Americas, with a fleet of 77 Airbus and Boeing aircraft, and over 90 aircraft on firm order, including 41 Boeing 787-9 Dreamliners and 10 Airbus A380s, the world's largest passenger aircraft. Etihad Airways also holds equity investments in airberlin, Air Seychelles, Virgin Australia, Aer Lingus and, subject to regulatory approval, will acquire 24 per cent of India's Jet Airways. For more information, please visit: www.etihad.com
About Competitor Group
Headquartered in San Diego, Calif., Competitor Group, Inc. (CGI) is the active lifestyle industry's leading media and event entertainment company. CGI's portfolio of media assets span the full range of  the expanding endurance industry and include a robust digital community on the web and on mobile across the Competitor Endurance Sports Network of websites. With a leading market share of endurance enthusiasts, CGI owns and operates 83 events around the world, including the flagship Rock 'n' Roll Marathon Series, the TriRock Triathlon Series, the NFL Run Series and the REI Muddy Buddy Adventure Series, collectively delivering more than 600,000 professional and amateur participants in 2013. Anchoring the company with rich content and marketing leverage are five publishing properties dedicated to running, cycling, triathlon and the world of multisport including Velo, Inside Triathlon, Triathlete, Women's Running and Competitor with a combined monthly circulation of over 700,000. Further information about CGI and its digital, publishing and event entertainment properties can be found at CompetitorMediaKit.com.