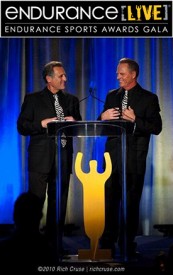 The premier awards show in endurance sports returns to San Diego on February 8th; Football legend Hines Ward joins Olympic medalists and world-class athletes from running, cycling and triathlon including 2014 Ironman Champion Mirinda Carfrae; Limited number of tickets remain available at enduranceLIVE.com
SAN DIEGO – February 7, 2014 – Dubbed "The Academy Awards of Endurance Sports" by Entertainment Tonight, the 22nd annual endurance LIVE Sports Awards Gala will honor the year's most remarkable performances in running, cycling and triathlon on Saturday, February 8 at the San Diego Marriott Marquis & Marina.
It's a star-studded celebration with the greatest athletes in the world.  Among the 2014 award winners are Ironman World Champion Mirinda Carfrae, Olympic medalist Javier Gomez, Ultra runner Timothy Olson, World Championship bronze medalist Brenda Martinez, Olympic coach Bob Larsen and Celebrity Athlete of the Year Hines Ward, who became the first NFL player to complete the Ironman World Championship Triathlon in Kona.
"endurance LIVE is the biggest night of the year in endurance sports and we are delighted to return home to San Diego to honor the greatest athletes on the planet," said Bob Babbitt, host of endurance LIVE and co-founder of Competitor magazine . "Not only are we back in our hometown of San Diego for the event, but I'm looking forward to hosting the evening with my longtime colleague Mike Riley, the voice of Ironman."
For the first time ever, the event will showcase the endurance LIVE Industry Award, presented by Competitor.com. The inaugural recipient of the award is Olympian Steve Furniss, who co-founded TYR Sports in 1985. A leader in competitive swimwear, swimming technology and triathlon apparel, today TYR has become the largest privately held performance swimwear manufacturer in North America.
"Steve has been a leader when it comes to growing pool swimming, open water swimming and the sport of triathlon," continued Babbitt. "He was the perfect choice as our first industry award winner."
The endurance LIVE Awards Gala is annually organized by San Diego-based Competitor Group, an active lifestyle media and event company that publishes Competitor, Women's Running, Velo and Triathlete magazines. Historically known as the Endurance Sports Awards, endurance LIVE annually honors the top endurance athletes on the planet, a list that has included Olympic gold medalists, Ironman World Champions and Tour de France podium finishers.
Notable attendees include  two-time Ironman World Champion Scott Tinley, Olympic medalist and New York Marathon Champion Meb Keflezighi, Olympic medalist and Ironman World Champion Michellie Jones, Xterra World Champion Lesley Paterson, American Record Holder Josh Cox, 1984 Olympic Gold Medalist Joaquim Cruz, professional triathletes Luke Mckenzie, Tim O'Donnell, Heather Fuhr, Lukas Verzbicas, Heather Jackson and Matt Reed, along with Paula Newby-Fraser, who is considered the greatest female endurance athlete in history, winning eight Ironman World Championship titles in her legendary career.
Winners of 2014 awards include:
Mirinda Carfrae, Competitor of the Year Presented by TYR: For winning her second Ironman World Championship title and out splitting the men's champion in the marathon for the first time in Kona history.
Hines Ward, Celebrity Athlete of the Year Presented by Triathlete.com: Super Bowl MVP, two-time Super Bowl Champion and Dancing with the Stars Champion, who this year took on the biggest challenge of his life, The Ironman Triathlon World Championship.
Javier Gomez, Male Triathlete of the Year Presented by The Active Network: He won Escape from Alcatraz, Hi Vee and the ITU World Championship all in 2013.
Coach Bob Larsen, Running Legend Presented by Competitor: Bob has coached Olympic Silver medalist Meb Keflezighi for the past 20 years. Coach Bob created the infamous Jamul Toads, the San Diego-based running group that won the 1976 National Cross Country Championship.
Breezy Bochenek, Challenged Athlete of the Year Presented By Kaiser Permanente: Breezy was diagnosed with cancer at the age of 10, lost her leg above the knee at 11 and completed the Wildflower Mountain Bike Triathlon just a few weeks after receiving her running leg.
Timothy Olson, Male Runner of the Year Presented by Newton Running: For the second year in a row, Timothy won the most prestigious event in ultra running, the Western States 100.
Brenda Martinez, Female Runner of the Year Presented by Powerbar: This year Brenda became the first American woman to ever medal at the IAAF World Championship at 800 meters.
Chris Horner, North American Cyclist of the Year Presented by VeloNews.com: Chris won the Tour of Spain, the first American to win that event, and in the process became, at the age of 41, the oldest cyclist to ever win a Grand Tour.
Steve Furniss, Industry Award Presented by Competitor.com: An Olympic Bronze medalist in 1972 at the 200 Individual Medley, Steve co-founded TYR Sports in 1985 and helped build TYR into a $100 million dollar brand while helping to grow pool swimming, open water swimming and the brand new sport of triathlon along the way.
For more information about the 2014 event and award winners, please visit enduranceLIVE.com. 
About Competitor Group, Inc.
Headquartered in San Diego, Calif., Competitor Group, Inc. (CGI) is the active lifestyle industry's leading media and event entertainment company. CGI owns and operates 54 events around the world, including its flagship Rock 'n' Roll Marathon Series, KiDS ROCK Series, TriRock Triathlon Series and Women's Running Series, collectively welcoming more than 600,000 professional and amateur participants in 2014. Anchoring the company with rich content are five publishing brands dedicated to running, cycling and triathlon including Velo, Inside Triathlon, Triathlete, Women's Running and Competitor with a combined monthly circulation of over 700,000. Our registration platform Race IT boasts one of the most stable and successful registration systems in the industry, serving the needs not only for the company's events, but also for endurance events of all sizes on behalf of the entire industry. Further information about CGI and its digital, publishing and event properties can be found at CompetitorMediaKit.com. 
# # #