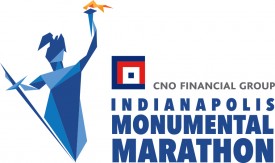 Donations on Track to Set New Records in 2016
August 11, 2016– The CNO Financial Indianapolis Monumental Marathon 'Run For A Cause' program has experienced rapid growth since inception in 2011.  Starting with just 3 charity partners in the inaugural year, the program grew to 23 organizations in 2015 and continues to add new partners.  In addition, funds raised by the program have grown from $95,000 in 2012 to nearly $280,000 in 2015, now totaling over $650,000.  Fundraising totals are already far exceeding previous years and 2016 is poised to set new fundraising records.
Through the 'Run For a Cause' program, participants in the CNO Financial Indianapolis Monumental Marathon are able to fundraise for their favorite charity as they train and complete their race.  As an official charity partner, organizations are able to offer exclusive benefits to those participants who chose to be affiliated with them. The Indianapolis Monumental Marathon partners with everydayhero to streamline this process.  everydayhero's integration makes it simple for participants to select from a database of registered 501(c)3 registered charities, set a fundraising goal, create their own fundraising page on which friends and family can donate, and to track their fundraising progress.  In just six years over 753,000 people have fundraised for over 5,300 charities with everydayhero.
"Every year our 'Run For a Cause' program helps bring another level of motivation and purpose to our event," said Blake Boldon, Executive Director of the Indianapolis Monumental Marathon, "Our participants are goal-oriented, socially-conscious people. Through their drive and incredible supporters, they nearly doubled our previous donation total in last year alone and are currently on pace to break our single-year record again in 2016."
The Indianapolis Monumental Marathon is currently accepting new charity partners to become part of the "Run For A Cause Program" for their 2016 events.  With the addition of the Indianapolis Half Marathon, 5k and Kids One Mile on October 8, there are more opportunities for engaging with participants than ever before.
The current list of Indianapolis Monumental Marathon Run for A Cause partners includes: ALZ Stars (Alzheimer's Association), American Lung Association, Back on My Feet, College Mentors for Kids, Easter Seals Crossroads, Finish MS (National MS Society), JDRF, Joseph Maley Foundation, Joy's House, Medals4Metals, Move for Hunger, NeuroHope, OE Enterprises/OE Runner, Overdose-Lifeline, Inc., Playworks Indiana, SON Foundation, Riley Children's Foundation, Team in Training, Team World Vision, and The Villages.
To get started with everydayhero, click here.
For information on becoming a charity partner, contact Strategic Partnerships Manager Swati Gunale at swati.gunale@monumentalmarathon.com
###
The CNO Financial Indianapolis Monumental Marathon was recently named one of the "10 Best Marathons for First-Timers" and one of the "Top Nine New Marathons" in the U.S. by Runners' World magazine. The marathon drew nearly 17,000 runners and walkers in 2015 to the course that highlights landmarks and historical neighborhoods throughout Indianapolis: the Indiana State Capitol, Bankers Life Fieldhouse, Monument Circle, among others. The Indianapolis Monumental Marathon provides the Indianapolis community with a complement of activities built around its premiere event that promotes healthy living & fitness for all ages (both runners and walkers.) They give back to the Indianapolis community by supporting youth programming that reinforces healthy lifestyles for young people, with an emphasis on working with urban students and Indianapolis Public Schools, donating more than $825,000 in eight years. www.monumentalmarathon.com
Contact:
Swati Gunale, Strategic Partnerships Manager
Indianapolis Monumental Marathon
swati.gunale@monumentalmarathon.com