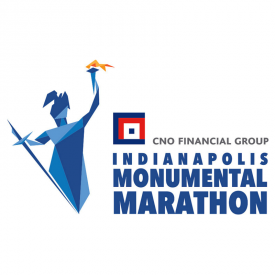 October 25, 2018 – The CNO Financial Indianapolis Monumental Marathon has reached capacity for the seventh consecutive year. The event, scheduled for November 3 in downtown Indianapolis, has closed registration for the 26.2-mile race with a field size of 5,500. Together with the half marathon, 5K and Kids Fun Run, the CNO Financial Indianapolis Monumental Marathon expects to bring nearly 18,000 runners to the start line on race day.
 "After a record year at our 10th anniversary event in 2017, we've used our momentum to continue to grow as an organization throughout 2018. With the help of our title sponsor, CNO Financial Group, we've been able to sustain exciting growth of our events and programs" said Jed Cornforth, executive director of Beyond Monumental, "We're thrilled to have so many runners, walkers and supporters joining us in downtown Indy."
As the title sponsor of the event for the third consecutive year, CNO Financial Group's commitment to health, wellness and the central Indiana community aligns with Beyond Monumental's organizational mission to educate Indianapolis youth on the benefits of exercise, proper diet and healthy living. The sponsorship has provided significant growth opportunities for the upcoming November event.
The CNO Financial Indianapolis Monumental Marathon routinely hosts Olympians, international athletes, local elites, and first-time runners alike. The marathon was 5th among all U.S. marathons in having the most qualifiers for the 2016 U.S. Olympic Trials, and it has also been named one of "10 Great Marathons for First Timers" by Runner's World.
A waitlist is available for the marathon and participants will be allowed to register as space permits. Registration remains open online for the half marathon, 5k and Kids Fun Run through October 30 and will be available at the 2018 Monumental Health and Fitness Expo, taking place at the Indiana Convention Center on November 1 and 2.
About Beyond Monumental
Beyond Monumental provides the Indianapolis community with a complement of activities built around their premiere event that promotes healthy living & fitness for all ages. Beyond Monumental gives back to the Indianapolis community by supporting youth programming that reinforces healthy lifestyles for young people, with an emphasis on working with urban students and Indianapolis Public Schools, donating more than $1,000,000 in 10 years. The CNO Financial Indianapolis Monumental Marathon is a top 20 marathon in the US and is nationally recognized by Runners' World as one of "Ten Great Marathons for First Timers". The 11th annual running is scheduled for Nov. 3, 2018. www.beyondmonumental.org
About CNO Financial Group
CNO Financial Group, Inc. (NYSE: CNO) is a holding company. Our insurance companies – principally Bankers Life and Casualty Company, Colonial Penn Life Insurance Company and Washington National Insurance Company – primarily serve middle-income pre-retiree and retired Americans by helping them protect against financial adversity and provide for a more secure retirement. For more information, visit CNO online at CNOinc.com.