Chesapeake Bayhawks Virtual Run Set for June 5th
April 23, 2019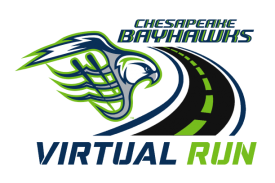 Inaugural virtual run to take place of Global Running Day, support American Heart Association
The Chesapeake Bayhawks and Legendary Sports Group will be joining together for the inaugural Bayhawks Virtual Run on June 5th to coincide with Global Running Day.
Runners who participate in the virtual run will receive a complimentary ticket to the Bayhawks home opener on June 29th against the Atlanta Blaze at Navy-Marine Corps Stadium and other Bayhawks branded items.
"The great thing about a virtual run is that people can run from anywhere they want and still feel they are a part of a bigger event," said Matt Florio, Vice President of Legendary Sports Group.  "We selected Global Running Day because it is built around celebrating the sport of running and promoting an active and healthy lifestyle which is what we want to do."
Participants will run on June 5th and have 48 hours to submit their result.  To submit a result, runners will need to run with a GPS-enabled device or app (i.e. Strava, MapMyRun, Fitbit, etc).  Those who run at least 5K will be eligible for unique prizes and awards.
All participants will have an option to purchase additional game tickets for a discount or upgrade their complimentary ticket to include the Bud Light Zone which gives you field level access during the game.
ABOUT THE CHESAPEAKE BAYHAWKS  
The Bayhawks are the most successful team in the history of Major League Lacrosse, the premier professional outdoor lacrosse league in the world. They have won over 100 regular season games, 12 of their 16 postseason games, appeared in seven championship games, and earned a record five MLL championships (2002, 2005, 2010, 2012, and 2013). The Bayhawks play at Navy-Marine Corps Memorial Stadium in Annapolis, MD and have given Chesapeake area fans the opportunity to witness some of the best talent in the sport and be a part of this growing, fast-paced, exciting sports community.
The Bayhawks are partnered with the American Heart Association and participants can make contributions directly during registration.
To register or to see more information about the Bayhawks Virtual Run please go to the event website for details.
ABOUT LEGENDARY SPORTS GROUP 
Legendary Sports Group (LSG) is a sports and entertainment management company focused on creating innovative experiences for consumers across the country. Specializing in endurance events, sports tournaments and special event production, the team at LSG is ready to help take your event to the next level while providing legendary service and lasting memories. More info on LSG can be found at www.legendarysportsgroup.com.
Email: [email protected]