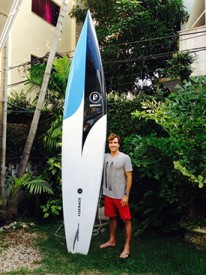 Carlos Burle has officially joined Spinlister as a professional athlete ambassador
Spinlister, the world leader of peer-to-peer bicycle rentals, announced today that Brazilian big wave surfer Carlos Burle has joined Spinlister as a professional athlete ambassador to help build their new stand up paddle board (SUP) and surfboard category. Burle is a two time Big Wave World champion, has won the Nissan Xterra XXL Big Surf Award, and is known for surfing a 100 foot wave off the coast of Portugal, which some consider the largest wave ever surfed.
Carlos is yet another professional surfer to join Spinlister's team. "The downside for travelers who like to surf is the hassle of shipping and carrying their gear, not to mention the high cost of airlines and finding a car that can even fit it all! Now I can travel light, with only the necessities, and rent the best boards directly from friendly locals everywhere in the world. I'm personally sharing my boards exclusively on Spinlister here in Rio de Janeiro, Brasil. I believe every surfer should list their boards to support the huge community of surfers worldwide!" says Burle.
"As a fellow Brazilian, I am very excited to have Carlos on board with Spinlister. He's a humble person with a healthy lifestyle and he's a legend in the surfing world. Carlos is the first surfer to list his boards in Brasil. I think both locals and tourists will be excited to rent boards from Carlos in Rio de Janeiro," says Spinlister CEO Marcelo Loureiro.
So far Carlos has listed his Stand up Flex race and is in the process of listing his Quiver. Carlos is encouraging all surfers to help spread surf culture and make money by listing their boards at www.spinlister.com/list. List your boards and use promo code "BURLEGEAR" to receive a $10 gift credit from Carlos for helping to support the surfing community. All boards are insured up to $2,000 against theft or damage.
About Spinlister:
Launched on April 1st, 2012, Spinlister is a peer-to-peer action sports platform that allows users to rent and list bicycles, skis, snowboards, SUPs, and surfboards from each other in over 100 countries worldwide. With their seamless web, iOS, and android apps, built-in security features, and a database of user reviews, Spinlister has won the trust of communities of athletes all over the globe.