CapTex Tri Continues to Grow and Welcome New Athletes
June 2, 2023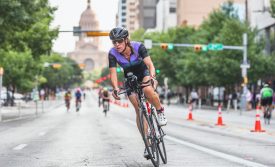 The annual Memorial Day Event in downtown Austin saw 2300 registrants
AUSTIN,Texas, June 2, 2023/ENDURANCE SPORTSWIRE/ – More than 2300 triathletes from over 26 states and 4 countries registered for the 2023 Ascension Seton CapTex Tri. In addition, over 300 volunteers came out to support the participants. The annual Memorial Day event took place in downtown Austin and featured a swim in Lady Bird lake, cycling through downtown, and a run along Auditorium Shores. The weekend kicked off with participants picking up their packets at the CapTex Tri Health and Fitness Expo on Sunday, May 28th, followed by the main event on Monday morning, May 29th. Temperatures held in the low 80s for the entirety of the day which featured Rookie, Sprint, and Olympic Distances along with Aquabike and Relay options.
"Our goal was to create a captivating weekend where participants can immerse themselves in the beauty of downtown Austin and truly savor every moment," expressed Stacy Keese, co-owner of CapTex Tri. "The surge in attendance this year exceeded our expectations, and we anticipate this trend to carry forward into the upcoming years, as we welcome new fitness enthusiasts into the triathlon community."
After crossing the finish line, participants enjoyed live music performances from local bands at the Finisher Festival, along with tacos, snacks, drinks and an opportunity to recover with a cold beer from the Eight Beer Garden. CapTex Tri also launched best pricing for 2024, which ends on Friday June 9th .
"I can't put into words the incredible experience of participating in the CapTex Tri. The course was fun and the finisher festival was electric! Celebrating my accomplishment with fellow athletes, live music, and cold drinks made this event one to remember," said Sprint participant and first time triathlete, Preston Bennett. "I can't wait to do my next triathlon"
Simon Shi took the Overall Champion title in The Olympic distance in a time of 01:54:21, while the female champion Joy Gill finished in 02:08:14. Rohan Takkar won the Sprint in 01:00:41, and the female Sprint Distance winner Anjelica Barrientos with a 01:08:13. For the Rookie Distance Jordan White won with a 00:55:06, while Marianne Koleng won the female division in 01:03:41.
The CapTex Tri would like to thank the volunteers, City of Austin, Austin Fire Department, Austin Police Department, Palmer Events Center, and sponsors Ascension Seton, Eight Beer, evamore, GU Energy, Nuun Hydration, Fleet Feet, Texas Drain Specialist, Bicycle House, Super Coffee, BPN, and Austin Sports Commission.
About High Five Events: Based in Austin, Texas, High Five Events is a community-centric company that has become one of the largest privately owned event production companies in the United States. Our staff has more than 100 years of combined experience organizing large events across different venue types in a variety of locations. High Five Events has been on the Inc. 5000 List of Fastest Growing Companies for 2020 (ranked 1853) and 2019 (2163).