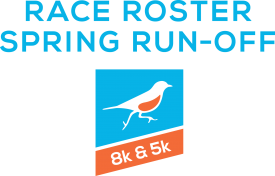 Toronto, ON. April 5, 2018 – This Saturday April 7th, Canada Running Series will welcome 4,000 runners and walkers to beautiful High Park for the annual kick off to the nation's most-popular running circuit. For 2018, the Series includes 8 events, in Toronto, Montreal, Edmonton and Vancouver. 
The Race Roster Spring Run-Off includes an 8k, 5k and an 800m Kids Run, and this year marks the 41st running of this family-friendly event that also includes some of Canada's top distance runners.  
For the 13th year, Canada Running Series is inviting all registered runners and walkers to raise funds to support any area of cancer research, clinic, lab, fund or patient-care program at The Princess Margaret Cancer Centre, one of the top 5 cancer research centres in the world! Every dollar counts and there is no fundraising minimum. 
Last year's 8k men's champion Tristan Woodfine will be returning, with competition from 2017 Canadian Marathon Champion Trevor Hofbauer. On the women's side, Pan Am Games marathon bronze medalist Rachel Hannah will be lining up along with 2017 Canadian Marathon Champion Leslie Sexton, as well as Canadian national team member Sasha Gollish.  
Post-race, participants can enjoy a $5 pancake breakfast, hosted by the Grenadier Café in support of the High Park Nature Centre. The High Park Nature Centre promotes awareness and respect for nature through year-round, hands-on, outdoor nature education and park stewardship. Pancakes will be served in the Party Site from 9:30 a.m. until 12:30 p.m.
Councillor Mike Layton and MP Arif Virani will officially start the races. 
What:  Race Roster Spring Run Off 
When: Saturday April 7, 2018
10:00 a.m.      8K Race Start
11:15 a.m.      5k Race Start
11:45 a.m.      Kids Run
Who:   Start Line – Councillor Mike Layton and MP Arif Virani
For further information contact:
Bonnie Taylor
tornadotaylor@icemice.ca 
647-401-0974 cell