Campagnolo GFNY Vintage presented by Selle San Marco brings classic race bikes to Campagnolo Gran Fondo New York
February 18, 2015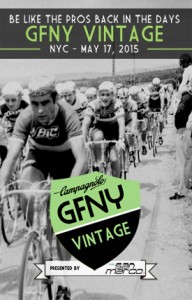 NEW YORK CITY, February 18, 2015 Campagnolo GFNY Vintage presented by Selle San Marco is a new category at the 5th annual Campagnolo Gran Fondo New York on May 17, 2015. It allows riders to experience the GFNY Championship on a classic road racing bike. Participants in the vintage category have to ride bikes that are from 1987 or earlier. These bikes must have frames made from steel, shifters at the down tube, toeclip pedals and low profile rims with at least 32 spokes.
"In a time of carbon frames and electronic shifting, many riders long for simpler times. The romantic in us glorifies the days when cycling was a sport for tough riders on steel rigs," says Uli Fluhme, CEO of Gran Fondo New York. "Campagnolo GFNY Vintage is a nod to these bygone days. Many cycling fans still have a bike from back then and others may have bought one second-hand. They now have a chance to ride GFNY with these machines to experience how riders several decades ago felt on a tough course."
GFNY Vintage riders can either ride 50 or 100 miles at Campagnolo Gran Fondo New York. Participants in the category will be required to wear the official GFNY 2015 race jersey and a modern helmet.
Presenting sponsor Selle San Marco will be the jury that chooses the three best vintage bikes at the GFNY Finish Village and award prizes. Both Campagnolo and Selle San Marco, founded in 1933 and 1935 respectively, are at the core of historic as well contemporary road cycling and are as such the ideal partners for this category.
About Gran Fondo New York
The 5th annual Campagnolo Gran Fondo New York on May 17, 2015 will be the first GFNY Championship. The race features the world's most international peloton with riders from over 70 countries and 48 US states. Athletes will take on a challenging 100-mile route from NYC to Bear Mountain and back to compete against each other, the clock and themselves in a personal endurance challenge.
The 50-mile GFNY BEAR on the same day is a non-competitive ride from NYC to Bear Mountain.
New for the 2014-2015 season, GFNY WORLD features events in Italy, Mexico, Puerto Rico, Colombia, Spain and France. Campagnolo Gran Fondo New York raises funds for Operation Smile, the international children's medical charity.
The official Gran Fondo New York website is: gfny.cc.