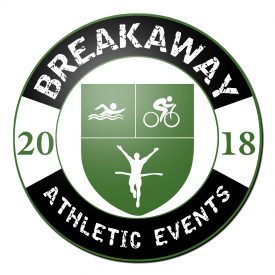 The Northern Colorado Race event company chooses MP Multisport individualized coaching and nutrition options for full spectrum of athlete needs leading into their inaugural 2019 race season.
(Fort Collins, CO, Mar 7, 2019) – Breakaway Athletic Events, Inc, a race events company, has announced a new partnership with MP Multisport to provide their athletes a full-service multisport training, off-road clinics, coaching and nutrition plans leading into their inaugural 2019 race season.  They will make their debut race at the EPIC Mini Triathlon, May 26 in Fort Collins, CO before heading off-road and changing up the race landscape at the uniquely challenging LeMans style Dirty Duo Off-road Ride & Run July 27. Closing out the season is the Boyd Lake Bash Multisport Festival on September 7.
"We're committed to a high energy sense of accomplishment that comes with racing and providing something that hasn't been done in the local area," says Breakaway founder J.B. Tobin.   "This realization, combined with our passion for multisport, led to the creation of Breakaway Athletic Events. Our strategic partnership with MP Multisport allows athletes to lineup on race morning feeling confident in their training, nutrition and have a great race experience."
More about Breakaway Athletic Events and their 2019 Race Calendar can be found here:
https://breakawayathleticevents.com/
More about MP Multisport's impacts in the endurance training community as well as services provided can be found here:
The 2019 calendar for Breakaway Athletic Events has three confirmed races.
The Epic Mini Triathlon – Fort Collins – 5-26-2019 – This is a short distance triathlon with a pool swim start. Beginner friendly, a great "tune-up" race for seasoned triathletes and a supportive race environment. 
The Dirty Duo Off Road Ride & Run – Lory State Park – 7-27-19 – Bring on the hills! This challenging summer time course has a "LeMans Style" start, no age or gender groups and promises to test the legs.
The Boyd Lake Bash Multisport Festival – Loveland – 9-7-19 – Ten races in one morning. Camping options and a craft beer garden at the finish line. Promoting the culture of athleticism and multisport racing at a family fun event is our number one goal. With Wildflower being cancelled this year we certainly can't fill that void, but we can help keep the spirit alive having created a fun festival event.