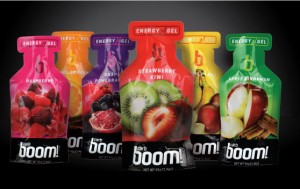 Cleveland, OH: BOOM Nutrition, maker of Carb Boom! Energy Gels®, has announced the hiring of three new sales agencies as the company gears up its retail presence with a focus on the run and cycling specialty retail markets. In addition to being the Exclusive Energy Gel of USA Triathlon, Carb Boom Energy Gels® are the Official Energy Gel of Carmichael Training Systems and are on-course energy gel at events nationwide and athletes are asking to buy them at their favorite local retailer. The company had earlier announced its new branding and new retail packaging which has been a huge driver in sales at retailers.
Carb Boom! Energy Gels® are well known for their great taste and unbeatable endurance performance. They are made with real fruit concentrates and purees and are rich in complex carbohydrates that deliver a steady energy release without the risk of an upset stomach.  Marathoners, triathletes, cyclists, runners and other endurance athletes love Carb Boom! Energy Gel's six delicious flavors and appreciate the fact that they do not contain any artificial flavors, colors or sweeteners, are gluten-free, dairy-free, and vegan-friendly.
Tony Lammers, CEO of Boom Nutrition commented "It is an exciting time at Boom! and we are really pleased with the enthusiastic reaction we are getting from our retailers and the sell through at retail has been remarkable.  We are thrilled that these outstanding sales agencies are on board to help provide our dealers with superior sales and customer service support."
The three new agencies are:
Tsunami Sales Group:  Southern CA, Southern NV, AZ and HI
Kevin Gamper and Associates: OH, IN, IL, MI, KY and Western PA
Tri Marketing Group: TX, OK, AL, LA
About Boom Nutrition
Boom Nutrition Inc., is a Cleveland, Ohio-based sports nutrition company that develops and delivers nutrition products that improve the performance of endurance athletes everywhere. Known worldwide for its great taste and great performance, Carb Boom! Energy Gels® is the Exclusive Energy Gel of USA Triathlon and are the official on-course energy gels at endurance events nationwide. See us on-course in 2015 at the USAT Collegiate Club National Championships, USAT Age Group National Championships, DICK'S Sporting Goods Pittsburgh Marathon, Rite Aid Cleveland Marathon, Indianapolis Monumental Marathon, Cox Providence Marathon, Newport Rhode Races Marathon, and more!
For more information about Carb Boom! Energy Gels®, go to boomnutrition.com.