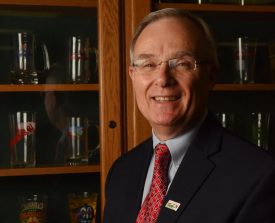 Successor search under way for longstanding PRRO Circuit event member, one of America's premier road races and a summertime classic
UTICA, N.Y. – Tim Reed has announced that he is stepping down as President of the Boilermaker Road Race, after ten years at the helm. "It feels like it's a great time for me to give someone else a chance to lead this fantastic organization," said Reed. "I'm excited to move on to the next big thing in my life and hand the reigns over to our new leader."
The Boilermaker, one of America's premier road races and a proud member of the PRRO Circuit, occurs the second Sunday in July in Utica, New York and also features a 5K race and kid's run & walk. Total event participation is more than 21,000 with a volunteer force of 5,000-plus.
The race ends at the F.X. Matt Brewery, hosts a Post-Race Party with an estimated crowd of more than 40,000 and is considered by many as the gold standard of road racing events.
The Boilermaker's mission is "to change people's lives in a healthy way" has an active community outreach program including an urban garden, kids in training in conjunction with the Utica School District and a public market promoting healthy food alternatives.
"We are indebted to Tim for both his vision and business sense he has brought the Boilermaker," said Fred Matt, chairman of the board of the Boilermaker. "He has left the organization in a very strong position from both a structural and financial perspective. The future for the organization is exceptional with the immense local heritage, support of the community, runners and sponsors. The Board of Directors is grateful for Tim's leadership and looks forward to continuing his legacy with unprecedented success in the years to come."
M3 Placement & Partnership has been selected to lead the national search for the next Boilermaker Road Race President. Headquartered in Utica, M3 Placement & Partnership specializes in executive searches and attracting outstanding talent to the Central New York area. Interested candidates can apply by sending resumes to resumes@m3bsn.com or by calling (315) 624-2210. The complete job description can be found at: http://m3bsn.com/job/president/
#          #          #