BMW Announced as the Official and Exclusive Vehicle of the BolderBOULDER.
February 17, 2015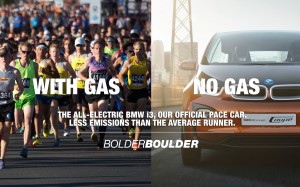 Luxury Automaker will be pace-car and official vehicle of 2015 and 2016 races.
FEBRUARY 17,  2015 (BOULDER, COLO)— BolderBOULDER, voted America's All-Time Best 10K by Runner's World, today announced that vehicles from The Colorado BMW Centers will be pacing some of the world's fastest runners through the streets of Boulder for the annual Memorial Day 10K Classic. The 37th running of the BolderBOULDER, will take place in Boulder, Colorado on May 25, 2015, and is the U.S.'s fourth-largest road race.
"In our opinion, BMW is the ultimate luxury and performance automobile brand in the world and they are dedicated to the communities in which they operate, which makes them a great partner for the BolderBOULDER and our participants," said Cliff Bosley, Race Director of the BolderBOULDER. "BMW also has an unparalleled commitment to green energy and has been named one the most sustainable auto manufacturers for a number of years running. We feel that BolderBOULDER runners and the community will appreciate an automaker with dedication to performance and energy efficiency."
As a part of the partnership, BMW will be providing the official pace car, the all-electric BMW i3, which will lead the Pro Wheelchair race, the BolderBOULDER citizen's race and the International Team Challenge all taking place at the 2015 and 2016 BolderBOULDER races. BMW will also provide transport for the elite wheelchair racers and have vehicles on display at Folsom Field, the Buff Pavilion, Sports EXHIBIT and the BolderBOULDER course.
"BolderBoulder, like BMW, is all about maximizing performance with maximum efficiency.  Indeed, we have more powerful and fuel efficient models than ever before with our range of electric, diesel and hybrid offerings.  And the all-electric BMW i3 was recently named World Green Car of the Year making it a fitting pace car to the race! BMW and the Colorado BMW Centers couldn't be more thrilled to partake in this terrific Boulder tradition.  The Ultimate Driving Machine truly captures the spirit of not just our legendary models, but the world class athletes competing as well," said Tom Penich, Media Communications Manager at BMW of North America, LLC.
BolderBOULDER participants will also get the opportunity to register for the BolderBOULDER at three local BMW dealerships (locations to be announced) and VIP Race Day Parking will be provided to all BMW owners participating in the race.
The 2015 race begins at 30th and Walnut Streets and winds through neighborhoods with live music and entertainment at every corner. The race finishes at the University of Colorado's Folsom Field and attracts over 150,000 spectators.
Learn more about BMW at http://www.bmwcolorado.com and follow them on Facebook (https://www.facebook.com/BMW ) and Twitter (https://twitter.com/bmw )
### 
About BolderBOULDER
The BolderBOULDER, named America's All-Time Best 10K by Runner's World, is the 4th largest running race in the United States and the 7th largest in the world. The race attracts over 50,000 runners, joggers, walkers and wheelchair racers, and draws professional athletes from around the world to compete for one of the largest non-marathon prize purses in road racing. The 2015 race starts at 30th and Walnut and winds through Boulder neighborhoods with live music and entertainment at every corner. The race finishes at the University of Colorado's Folsom Field and attracts over 100,000 spectators. The 37th annual BolderBOULDER will be held on Memorial Day, May 25th, 2015. For more information please visit: www.bolderboulder.com
 About BMW Group In America
BMW of North America, LLC has been present in the United States since 1975.  Rolls-Royce Motor Cars NA, LLC began distributing vehicles in 2003.  The BMW Group in the United States has grown to include marketing, sales, and financial service organizations for the BMW brand of motor vehicles, including motorcycles, the MINI brand, and the Rolls-Royce brand of Motor Cars; DesignworksUSA, a strategic design consultancy in California; a technology office in Silicon Valley and various other operations throughout the country.  BMW Manufacturing Co., LLC in South Carolina is part of BMW Group's global manufacturing network and is the exclusive manufacturing plant for all X5 and X3 Sports Activity Vehicles and X6 Sports Activity Coupes.  The BMW Group sales organization is represented in the U.S. through networks of 339 BMW passenger car and BMW Sports Activity Vehicle centers, 139 BMW motorcycle retailers, 119 MINI passenger car dealers, and 35 Rolls-Royce Motor Car dealers.  BMW (US) Holding Corp., the BMW Group's sales headquarters for North America, is located in Woodcliff Lake, New Jersey.  Information about BMW Group products is available to consumers via the Internet at:  www.bmwgroupna.com