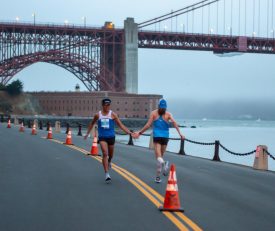 Blistering Pace and Silverback Pacific Team Up for One of San Francisco's Biggest Races
SAN FRANCISCO—Working with a short timeline and a challenging array of race options at the Biofreeze San Francisco Marathon, Blistering Pace Race Management (BPRM) and Silverback Pacific joined forces to offer a seamless execution of events for 27,500 registrants on July 29, 2018.
It was the 41st edition of the San Francisco Marathon, which offers its participants the options of a full marathon, two different half marathon courses, a 5K, or an ultra distance. Each race includes views of some of the most iconic sites of the city, such as the Ferry Building, the Golden Gate Bridge, Fisherman's Wharf, Golden Gate Park, AT&T Park, and more.
Managing such logistics came down to teamwork between BPRM and Silverback Pacific, who were brought on for the first time this year.
BPRM, led by President Michelle La Sala, oversaw permitting and securing venues for the full marathon start and finish downtown on the Embarcadero, one half marathon finish, and the second half marathon start in Golden Gate Park. Kyle Meyers, from Silverback Pacific, handled course operation, including traffic control, aid stations, course monitors, and course activations. The event requires coordination with 13 agencies and jurisdictions within the city of San Francisco.
"The new team brought creative and innovative suggestions to the design and implementation of a variety of production elements," said Peter Nantell, executive producer of the San Francisco Marathon. "Michelle and Kyle's teams bring expertise to the details, understanding how they add up to the bigger picture. With the addition of Biofreeze's title sponsorship and other partners, we are only getting started—I am looking forward to continuing working with BPRM and Silverback to further improve the runners' experience from here."
BPRM also manages the Kaiser Permanente San Francisco Half Marathon & 5K and the Napa Valley Marathon, in addition to the operations of other Northern California races like the Big Sur International Marathon.
"In 2014 and 2015 I also worked with the San Francisco Marathon, so it was great to be back, this time collaborating with Peter and Kyle," La Sala said. "With the local experience we all bring to the table, we can navigate the production timeline effectively and efficiently to deliver a successful race experience."
Meyers is the acting race director of San Francisco's Bay to Breakers race and has a hand in many Bay Area events. He's also supported several Ironman productions.
"This was a massive undertaking and we had a few hurdles to overcome with course and venue changes. We took everything in stride to deliver a safe and smooth event," Meyers said. "It's always great working on projects with Michelle and BPRM. I'm looking forward to taking what we've learned together and getting back to work on next year's event."
The 2019 Biofreeze San Francisco Marathon will take place on July 28. More information and registration is available at www.thesfmarathon.com.
###