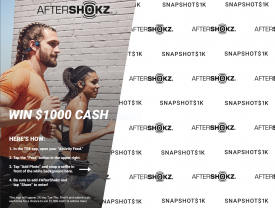 Sponsorship includes an exciting activation and cash giveaway at The Running Event
Portland, OR – BibRave, the running industry leader in grassroots digital marketing, recently announced another sponsor of The BibRave 100: A Definitive List of the Best Races in America. For the 2018 edition, BibRave is pleased to welcome longtime partner, AfterShokz, as presenting-level sponsor of The BibRave 100 awards luncheon on November 28th at The Running Event.
AfterShokz – makers of the innovative open-ear, bone conduction running headphones – and BibRave have a close partnership that began in 2015. That relationship has expanded to include custom brand ambassador management, ongoing product promotion, podcast sponsorships, and now an innovative activation to engage retail and race partners at The Running Event.
As part of their sponsorship of The BibRave 100, which will include a free pair of Trekz Air for each awards luncheon attendee, BibRave and AfterShokz are launching a sweepstakes/scavenger hunt called "The SnapShot $1K," where one lucky conference attendee will win $1,000.
At six strategic mystery moments throughout The Running Event, an AfterShokz-branded step & repeat will appear for 60 minutes at a time. During those 60-minute intervals, conference attendees can snap a selfie in front of the sign and submit their pic via the event app for a chance to win. Each photo submission will count as a chance to win, and one random winner will leave Austin $1,000 richer. The timing and location of the six 60-minute intervals will be teased and hinted at via the TRE event app throughout the conference.
"The Running Event is a critical show for us to connect with and impress our retail partners, and 'The SnapShot $1K' is a super fun way to do so in a way that reflects our own brand voice and approach," said Kim Fassetta, AfterShokz CMO. "Part of why we love working with BibRave is that they're always coming up with new ways for us to tell our story and stand out from the crowd, and 'The SnapShot $1K' is a perfect example."
The Running Event is a world-class running conference aimed at highlighting emerging trends and advancing the conversations between races, retailers, and running-related brands. But with such a high-profile event comes the challenge of how to stand out as other brands continuously up-the-ante with creative and innovative activations.
"AfterShokz is a truly unique brand, not just because they are pioneering a safer way to consume audio content via open-ear, bone conduction technology, but also because they are so open-minded and creative," said Tim Murphy, Co-Founder of BibRave. "They're never afraid to try new things and blaze new trails, because it's just part of their DNA. We're lucky to have them as a partner, and as a positive force in the running industry."
About AfterShokz
AfterShokz brings patented bone conduction technology, initially developed for military special operations and law enforcement by Voxtech in 2001, to sport, mobile and Bluetooth® headphones designed and priced for everyday use. Through a suite of proprietary audio technologies and the only completely open ear design, AfterShokz headphones deliver premium stereo sound and a promise of safety and comfort that is second to none. Since its inception in 2011, the company has been committed to innovating unconventionally and making situational awareness a priority. Learn more about how to #BeOpen at aftershokz.com.
About BibRave:
BibRave works with races and brands to help them engage with runners and ultimately drive more sales and registrations. Through their large and highly-vetted network of running bloggers (BibRave Pros), their popular Twitter event (#BibChat), and their new Podcast (The BibRave Podcast) BibRave helps endurance brands and races go beyond simple advertising and truly connect with more runners.
The company's consumer-facing product is a race review site where runners can learn about a race before signing up, and leave feedback after the event. The company launched in late 2013 in the Midwest and is now based in Portland, Oregon.
About The Running Event:
The Running Event is a conference and retail trade show for running specialty retailers, hosting over 2,500 attendees and about 300 exhibitors at their annual conference. Formula4 Media, based in Great Neck, N.Y., established in 2005, also produces nine publications: Running Insight, Footwear Insight, Sports Insight, Outdoor Insight, Team Insight, Textile Insight, Trend Insight, Inside Insight, and Sportstyle.