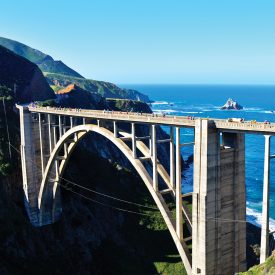 BibRave to highlight, hype BSIM race events through extended social media and blogger promotion
(Portland, OR) – BibRave, the running industry leader in grassroots digital marketing, recently finalized the third consecutive year of partnership with the Big Sur International Marathon Foundation. The company will provide social media and blog promotion for the 2019 Monterey Bay Half Marathon and the iconic Big Sur International Marathon in 2020.
BibRave helps races drive more awareness, amplify crucial promotional messaging, and generate more registrations using the large reach of their running ambassadors, the BibRave Pros. These highly-vetted and effective social media influencers and running bloggers augment the race's marketing while crafting their own authentic content, creating a compelling story about what makes the race attractive to other runners. The BibRave Pros will spread the word about these must-run events and will highlight the race organization's most appealing draws for runners. 
"We're working with BibRave because we recognize the value of their influencers as a piece of our overall marketing strategy. Their network of BibRave Pros will add more volume and reach to our own efforts," said Hillary Fujii, Marketing and Communications Manager of the Big Sur Marathon Foundation. "We take pride in offering 'once in a lifetime' race experiences that allow us, as a nonprofit organization, to give back to our community. We want as many runners as possible to have the chance to participate in our bucket list events and learn about our mission, and that's why we're partnering with BibRave."
BibRave services offer a turn-key experience for race events – generating engaging, creative, and authentic promotional campaigns that deliver measurable results and evergreen race content for years to come. Encompassing all social media platforms, plus significant blogging reach, BibRave's influencer marketing is neatly packaged in a personal, effective, and efficient way. 
"The Big Sur Marathon Foundation offers up world-class race events, and they really are a perfect pairing for the BibRave community and the BibRave Pros," said Tim Murphy, Co-Founder of BibRave. "They recognize the value in digital grassroots marketing, even for their lottery-only distances, and their epic course attracts runners from around the world. We're excited to have BibRave support, spread, and celebrate that magnetism for another year."
About Big Sur Marathon Foundation
The Big Sur Marathon (BSIM) is a 501(c)(3) non-profit organization dedicated to providing beautiful events that benefit the community. Currently their 'family of events' includes the Big Sur International Marathon (April), the Monterey Bay Half Marathon (November), and Run in the Name of Love 5K/2K (June). In addition, BSIM administers the award-winning JUST RUN® youth fitness program. Big Sur is proud to be recognized as an innovator in sustainability on the 2018 BibRave 100 list for integrating sustainable practices into their race operations to reduce the carbon footprint of their events. 
About BibRave
BibRave works with races and brands to help them engage with runners and ultimately drive more sales and registrations. Through their large network of running bloggers (BibRave Pros), their popular Twitter event (#BibChat), and The BibRave Podcast (for Apple or Android) BibRave helps endurance brands and races go beyond simple advertising and truly connect with more runners.
The company's consumer-facing product is a race review site where runners can learn about a race before signing up, and leave feedback after the event. The company launched in late 2013 in the Midwest and is now based in Portland, Oregon.