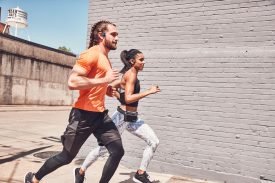 BibRave will leverage its deep experience cultivating communities for the rapidly growing bone conduction headphones brand
Portland, OR – BibRave, the innovative marketing solution for races and endurance brands, will be growing, revamping, and managing the AfterShokz ambassador program – ShokzStars. With AfterShokz experiencing exponential business growth the past few years, the investment in a strong ambassador community will deepen the loyalty and excitement around their products.
The inclusion of ambassador management marks yet another milestone in the relationship between the two brands, with AfterShokz continuing to leverage existing programs while being first-to-market with BibRave on new ideas and opportunities. In January, AfterShokz renewed as the Official Headphones Sponsor of The BibRave Pros, in June the two brands announced their audio-based #262squad Marathon Training Journey, and the addition of ShokzStar management complements BibRave's running community expertise with AfterShokz' growing demand.  
For the past 4 years, BibRave has used its own large network of running bloggers and social influencers to help races and endurance brands reach more runners. As a result, the company can leverage deep expertise and best practices to provide effective, cost-efficient, and turn-key community management. 
"Frankly speaking, at first we were a bit hesitant to let go of managing our own internal ambassador network because it's such an important extension of our brand and we wanted to ensure they were in the best hands," said AfterShokz CMO, Kim Fassetta. "But we've been working with BibRave for so long, and on so many fronts, so we've seen the amount of passion, creativity, and expertise that they put into every project they undertake. That quality, along with their deep experience managing running ambassadors is ultimately why I decided to take that workload off our team and put it in BibRave's care."
BibRave's management of the ShokzStars will include ambassador application management, vetting, on-boarding, messaging, product seed coordination, community activities and cultivation, planning and coordinating in-person expo and store activations for the ShokzStars, and detailed analytics and reporting using BibRave's suite of technology tools.
"Managing brand ambassadors is one of those deeply critical, but labor-intensive investments that every brand struggles to maximize," said Tim Murphy, Co-Founder of BibRave. "We take the endless day-to-day tasks off of our clients' plates, make them more efficient through our experience and processes, and leave clients with the fun part of social media – seeing their biggest fans talking about and sharing their brand across social channels. We couldn't be bigger fans of the AfterShokz brand, and we can't wait to start growing more evangelists!"
About AfterShokz
AfterShokz brings patented bone conduction technology, initially developed for military special operations and law enforcement by Voxtech in 2001, to sport, mobile and Bluetooth® headphones designed and priced for everyday use. Through a suite of proprietary audio technologies and the only completely open ear design, AfterShokz headphones deliver premium stereo sound and a promise of safety and comfort that is second to none. Since its inception in 2011, the company has been committed to innovating unconventionally and making situational awareness a priority. Learn more about how to #BeOpen at aftershokz.com.
About BibRave
BibRave works with races and brands to help them engage with runners and ultimately drive more sales and registrations. Through their large and highly-vetted network of running bloggers (BibRave Pros), their popular Twitter event (#BibChat), and their new Podcast (The BibRave Podcast) BibRave helps endurance brands and races go beyond simple advertising and truly connect with more runners.
The company's consumer-facing product is a race review site where runners can learn about a race before signing up, and leave feedback after the event. The company launched in late 2013 in the Midwest and is now based in Portland, Oregon.