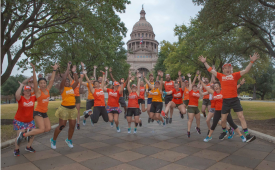 Addition of two new staff brings Team BibRave to seven full-time members
Portland, OR – BibRave, the running industry leader in grassroots digital marketing, has added two new members to their growing agency. Carolyn Gardner and Don Reichelt join the team as Community Manager and Account Planner respectively, expanding BibRave's ability to take on larger content and white label ambassador management projects for their race and brand partners. The addition of Carolyn and Don brings the BibRave team to seven full-time members in total.
Carolyn brings a wealth of community management experience to the company, having grown the Los Angeles chapter of the Oiselle Volée ambassador program from 20 to almost 100 members over the course of three years. She also created and grew her own run crew in Chicago called Crew Runs the World, leveraging her network of contacts and brand relationships to secure product commitments from Nike and Nuun. Carolyn will join as BibRave's second community manager, working with BibRave's turn-key running ambassador network, the BibRave Pros, as well as working on BibRave's white label ambassador management programs for races and brands.
Don brings extensive event and project management experience, having started his own run-focused consultancy, Boundless Endurance, which provided content, digital marketing, event production, and social media management services in the running space. He also served as Event Coordinator for the Town of Estes Park in CO, managing 20 non-profits and town-sponsored entries for local events and parades. Don also finished third at the "The World's Toughest Foot Race," the Badwater 135 Ultramarathon in 2018.
"We're beyond excited to have Carolyn and Don joining the team," said Tim Murphy,  Co-Founder of BibRave. "They are great people who bring a ton of experience and perspective, and their contributions will only make our client projects better and more engaging,"
About BibRave
BibRave works with races and brands to help them engage with runners and ultimately drive more sales and registrations. They offer turn-key ambassador marketing, white-label ambassador management, custom content programs, as well as organic and paid social media management services.
Through their large network of running bloggers (BibRave Pros), their popular Twitter event (#BibChat), and The BibRave Podcast (Apple, Android, or Spotify) BibRave helps endurance brands and races go beyond simple advertising and truly connect with more runners.
The company's consumer-facing product is a race review site where runners can learn about a race before signing up, and leave feedback after the event.