Beyond Monumental Launches Monumental Ambassador Program
June 18, 2019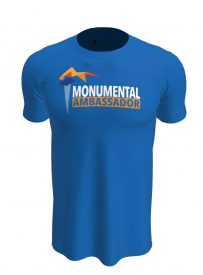 INDIANAPOLIS –June 18, 2019 – Beyond Monumental, the 501(c)3 non-profit responsible for the CNO Financial Indianapolis Monumental Marathon, has announced that the first ambassador program for their flagship event is now accepting applications. The Monumental Ambassador Program aims to recruit enthusiastic, engaged individuals to help spread the word and awareness of the November event.
Selected ambassadors will share announcements and news about the 2019 CNO Financial Indianapolis Monumental Marathon, as well as their own training and preparation for the event. Ambassadors will be selected to represent a variety of locations, ages, and running experiences. Successful applicants will not be limited to marathon runners, but will be required to be registered for the marathon, half marathon or 5K prior to being officially selected as an ambassador.
"The ultimate goal of this program is to amplify the already strong enthusiasm our participants have for running and the active community," said Rhi Johns, Marketing and Communications Manager. "That's why, unlike many ambassador programs, we require our ambassadors to register on their own for 2019 to earn a 2020 entry. We want people who are genuinely excited about Monumental events and can be authentic in their interactions with other potential participants."
The application window will be open until June 30, 2019. Runners, walkers, and fitness enthusiasts who have a large social following or are otherwise engaged in the running community are encouraged to apply. Successful applicants will receive benefits including VIP status at the 2019 CNO Financial Indianapolis Monumental Marathon, a 25% discount on MonumentalGear.com, early access to announcements, and a free entry to the event in 2020. By referring others to participate in the event, ambassadors can earn additional benefits like apparel, additional free entries, and hotel stays.
More information about the program and how to apply can be found here.
###  
About Beyond Monumental
Beyond Monumental provides the Indianapolis community with a complement of activities built around their premiere event that promotes healthy living & fitness for all ages. Beyond Monumental gives back to the Indianapolis community by supporting youth programming that reinforces healthy lifestyles for young people, with an emphasis on working with urban students and Indianapolis Public Schools, donating more than $1,000,000 in 10 years. The CNO Financial Indianapolis Monumental Marathon is a top 20 marathon in the US and is nationally recognized by Runners' World as one of "Ten Great Marathons for First Timers". The 12th annual running is scheduled for Nov. 9, 2019. www.beyondmonumental.org