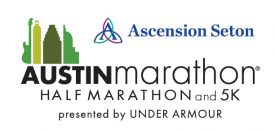 Austin-based NBC affiliate to host FloTrack's live race-day coverage
AUSTIN, Texas, January 11, 2019 – High Five Events, one of the largest privately owned event production companies in the United States, introduces KXAN as the Official Media and News Coverage of the 2019 Ascension Seton Austin Marathon presented by Under Armour®. In addition to hosting FloTrack's live coverage, KXAN will have an exclusive media zone and provide live shots and on-air talent on race day. The Austin Marathon will take place on Sunday, Feb. 17, 2019.
"We're proud to support the Austin Marathon through our station-wide initiative, Simple Health," said Eric Lassberg, Vice President and General Manager of KXAN. "By highlighting all events during Austin Marathon weekend, including the Austin Marathon 5K, we hope to raise awareness for Central Texans on fun ways to be active within their community."
KXAN is the Austin, Texas, NBC affiliate committed to providing Central Texans valuable and local news coverage through its in-depth, investigative brand. KXAN's Simple Health is a new public service initiative focused on providing its viewers with healthy living and wellness tips across all KXAN platforms.
"We're excited to work with KXAN and expand the Austin Marathon's media footprint," Jack Murray, co-owner of High Five Events. "Their involvement will expand beyond live coverage and stories as many of their staff will run on race day."
The Austin Marathon will celebrate its 28th year running in the capital of Texas in 2019. Austin's flagship running event annually attracts runners from all 50 states and 30+ countries around the world. Having start and finish locations in the heart of downtown Austin puts participants and spectators near all the action and within walking distance of restaurants, hotels, and shops. Finishing with the picturesque Texas State Capitol as your backdrop is icing on the cake for the perfect running weekend destination. Registration is open for all distances.
About High Five Events: Beginning with the launch of a single triathlon in 2003, High Five Events has grown to become one of the largest privately owned event production companies in the United States. In addition to the events it owns and produces, the Austin, Texas-based company offers consulting and event production services to dozens of additional events each year. High Five Events is community-centric and has more than 100 years' combined experience organizing large events across different venue types in a variety of locations. Follow High Five Events on Twitter (@highfiveevents), Instagram (@highfiveevents), and Facebook (facebook.com/HighFiveEventsWorldWide/) for news and updates.