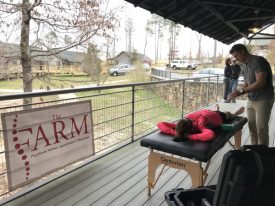 Meet Beau Beard
ATRA announces the twenty eighth American Trail Running Association (ATRA) Trail Ambassador presented by CamelBak, and the fifth in 2019.  A resident of Birmingham, Alabama, 35-year-old Dr. Beau Beard is a fixture on and off the trails as an athlete, chiropractor, and volunteer.
Hailing fromCanton, a small town smack dab in the middle of Illinois, Beard has also called Telluride, Colorado, and Anchorage, Alaska home. But for the past six years, he has lived in Birmingham, Alabama, where he and his wife Sloan run their business, The FARM: Functional Athletic Rehabilitation & Movement. "I'm a sports chiropractor, rehabilitation specialist and human performance coach," said Beard. "At The FARM we specialize in sports injuries and holistic healthcare."
Beard started running trails about sixteen years ago, "I fractured my femur when I was nine years old and was told that I would probably never run again," said Beard. "Well I'm hard headed and played sports all the way through college, but I didn't really start trail running until I moved to Alaska in 2003. I started running up Flat Top Mountain a few times a week and entered my first trail race a year later. I came in third place, and I've been finding freedom on single track ever since."
That freedom has encouraged him to go farther in his training and racing. "I'll be running my first 100 miler this year," said Beard. "I've always leaned more towards half marathon and shorter due to my middle distance background, but I'm really enjoying getting out and taking on more 50Ks and 50 milers. My favorite trail race to date was also one of my worst showings to date. I ran The Rut 50K in 2016, and it was brutally hot, but what a beautiful and tough race."
His dedication to the sport is evidenced through his practice. "About 75% of my patients are runners/trail runners," said Beard. "I see a variety of injuries, but I also provide in depth gait analysis, in clinic as well as online cross training geared specifically towards runners, and I teach quite a few seminars around the country each year on injury prevention and performance maximization."
Beard's dedication transfers over to volunteerism. "I've been volunteering at a variety of races for at least the last 10 years," said Beard. "I've been the medical director for races across the U.S. Currently through my practice we offer first aid services, minor injury care, soft tissue therapy, stretching, taping and other recovery services for races around the Southeast."
Beard isa member of the Birmingham Ultra Trail Society and a sponsor of Southeastern Trail Series, both of these groups help organize trail maintenance efforts, and Beard pitches in as much as he can. "I've also organized several trail clean-ups where we gather runners and other trail enthusiasts together to clean up areas of trail that need some TLC," said Beard.
Like most trail runners, Beard enjoys the solitude and peace realized on the trails. "The biggest lesson I've taken from trail running is that at this time in human history we all need to unplug from the stress and constant barrage of everyday life," said Beard. "My wife can tell when I'm overdue for some trail time, and I think there are many people out there that would benefit greatly from hitting a trail for an hour or two and revitalizing a sense of wonder and appreciation for nature."
As a medical professional, Beard has some advice to those getting into trail running and racing, "Strengthen your body off of the trail, to be sure that you can enjoy the trails for as many years as you can," he said. "Most injuries can be greatly offset through proper cross training and just getting a bit stronger and more robust overall."
Read more of Beard's story  here.
The ATRA Trail Ambassador program is presented by CamelBak with support from adidas Outdoor, LEKI USA, and CEP Compression.