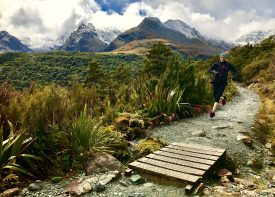 A grassroots, community-building initiative sponsored by OrthoLite, with support from Salomon and Balega
The American Trail Running Association (ATRA) is excited to announce the launch of its newest program, Connect with the Trail, a grassroots, community-building initiative sponsored by OrthoLite, with support from Salomon and Balega. The #ConnectWithTheTrail program will invite trail runners to share imagery from the trails on their Instagram and/or Twitter channels, using #ConnectWithTheTrail and tagging ATRA and OrthoLite in their post for an opportunity to win a curated product package from OrthoLite, Salomon and Balega.
"At OrthoLite, our hope is to enhance the trail running experience for athletes at every level with superior comfort and performance thanks to our innovative insole technology," said Dan Legor, Global Director of Marketing for OrthoLite. "We're looking forward to deepening our commitment to the trail running community and engaging with them through the Connect with the Trail program."
Imagery submitted as part of the #ConnectWithTheTrail program should fall into one of the following categories, with a goal of inspiring other trail runners and sparking conversation amongst the community:
Emotion: reflect the emotion one experiences on the trails and illicit a "Wow" response from the viewer
Responsibility: speak to the 2019 ATRA theme of "Trail Running Responsibly," showing runners sharing the trail with multi-users (e.g., running with their leashed dog, or pitching in on a trail maintenance day)
Community:  celebrate diversity, equity and inclusion at trail races, or on group runs
Each month, the ATRA team will select an image that represents at least one of the above categories to be featured on its social channels and website. The individual who submitted the selected image will receive a custom product package from Connect with the Trail's presenting sponsor, OrthoLite, and supporting partners, Salomon and Balega.
"We expect this to be a really engaging campaign and are excited to see what the running community submits to illustrate their trail running spirit and how the community shines," said Adam Chase, ATRA President. "We are grateful to our sponsors, OrthoLite, Balega and Salomon, and look forward to rewarding those who submit the best image each month."
Connect with the Trail officially launches in June and will continue throughout 2019, giving trail runners an opportunity to share their experiences and further grow the community. Instructions on how to engage and future program updates will be promoted via ATRA's social media channels and website on an ongoing basis.
To learn more about ATRA, visit www.trailrunner.com and follow ATRA on Instagram. Stay up-to-date with OrthoLite company news by visiting OrthoLite.com and following OrthoLite on Facebook, Instagram, Twitter and LinkedIn.
About ATRA:
A non-profit 501 (c) 3 corporation based in Colorado, ATRA was founded in 1996, with a mission to promote trail running, mountain running, ultrarunning on trails, and to provide resources for race directors and participants in our sport. It is a membership-driven association with a variety of annual membership levels. Corporations, events, and clubs are invited to join ATRA as partners, or members. To learn more about ATRA, visit www.trailrunner.com.
About OrthoLite:
OrthoLite, headquartered in Amherst, MA, is the world's #1 supplier of open cell foam technology found in more than 500 million shoes across all categories each year from brands such as Adidas, ASICS, Bata, Clarks, Cole Haan, Converse, ECCO, Johnstone & Murphy, Jordan, Kenneth Cole, Lacoste, New Balance, Nike, Reebok, Rockport, Timberland, Tory Burch, Wolverine and Vans. OrthoLite has a long-standing history of meaningful partnerships and sponsorships that demonstrate a dedicated commitment to supporting its customers, consumers, brand partners and the footwear industry. OrthoLite is the Official Insole of the New York Yankees, partner of the American Trail Running Association (ATRA) and strong supporter of the Two Ten Foundation. To learn more about the benefits of OrthoLite or purchase a pair of insoles, visit www.ortholite.com.