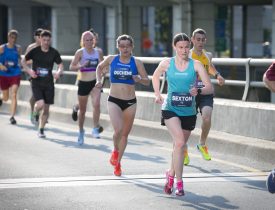 Inspiration can be derived from a variety of sources when it comes to marathon running. In the case of Leslie Sexton, a self -admitted Star Wars geek, the strength exuded by a fictional character has raised her spirits.
Two years ago, Sexton knocked close to six minutes off her then personal best with a 2:33:23 clocking at the Scotiabank Toronto Waterfront Marathon. Now the thirty-year old London, Ontario resident has her sights set on improving on that time at the 2017 edition of this IAAF Gold Label race.
Of her fascination with Star Wars she speaks unabashedly.
"I really like the character of Rey in 'The Force Awakens' because she has got this real strength and independence," Sexton reveals. "I sort of like to think of that sometimes when I am out doing lots of miles on my own. I have a lot of fictional characters I like to think about. There are runners I look up to but I will think about Star Wars or something cool that Wonder Woman would do."
That's not to say Sexton doesn't have some more earthly heroes. Watching Emma Coburn of the US strike 3,000m steeplechase gold in the recent World Championships, an enormous upset in sporting terms, stirred her soul, she admits. And there are others.
"A sort of hero for me over time has been (American marathoner) Desiree Linden because she was someone who had some talent but wasn't a top high school or collegiate runner and has stuck with the same coach over time and had great results," she explains. "I see her as a grinder. She does the work; she doesn't complain and has been consistent year after year. I think she is really my inspiration for sure."
Overcoming odds seems to be a theme that captivates Sexton. After turning her ankle while trail running at the end of last year she has been focusing on returning to form.
"I was off for four months and didn't start running until the start of April this year," she reveals. "In terms of racing in the summer part of it was just spending time getting fit again. The first one back was the Toronto Waterfront 10k in mid-June. That went fairly well. Then I did a couple of track races that weren't as fast as I wanted. The main thing of that summer block was getting fit again and getting back to interval training and a bit of racing."
Now her confidence is soaring after running between 200 and 210 kilometres in each of the past four weeks. That includes some interval training. When she is not out with her London Runners' training mates she works part time at a local running store. She also coaches some club members. Under coach Steve Weiler's watchful eye her own fitness continues to grow, which has her eagerly anticipating Toronto Waterfront.
"I feel like every workout I am showing improvement," Sexton maintains. "The times are coming down and I am getting fitter. I don't see any reason why I shouldn't be going for a personal best in Toronto if things keep going well."
Sexton understands she is amongst a fine group of Canadian women who are stepping on the heels of Olympians Lanni Marchant and Krista DuChene. Going toe to toe with them in Toronto is all the more appealing especially since the race is a Canadian Championships.
"I love that the Canadian Championships are in Toronto," she declares. "It's a race I would do anyway whether it was here or not. But having that Canadian Championships and having a lot of good Canadians on the line makes it all the more special. It makes it a good competitive race. So, I want to be very much about running even and running a fast as possible time and hopefully the place will take care of itself.
"Right now it's just about taking small steps. If it is only 30 seconds or a minute at a time I am knocking off I am still happy with that, because I am moving forward.  And, even this year, coming back from an injury and having a rough year last year (in terms of race results), it has taken the pressure off me to run like a 2:31 or 2:32. I am still chasing fast times but to me it would be good just to get back in that range."
England Athletics are sending Tish Jones (2:33:56 in London this year and winner of last Fall's Cape Town Marathon) and Anna Boniface (2:37:07 this year in London) to Toronto and no doubt Sexton will find herself in close proximity to them during the race.
Among the Canadians she will face is the aforementioned Olympian Krista DuChene who ran 2:28:32 on this course four years ago, and Natasha LaBeaud. The latter has a personal best of 2:35:33 recorded in Toronto in 2014. In addition, a trio of relative newcomers to the distance will battle for Canadian medals and prize money.
They are Montreal's Melanie Myrand, third in the 2017 Canadian Half Marathon Championships; Arianne Raby, also from Montreal, won the Montreal Marathon last Fall then took 7 minutes off her PB in Ottawa this Spring where she ran 2:41:58; and Lyndsay Tessier, winner of the Scotiabank Vancouver Half Marathon in June.
-30-
For more information and to enter this year's race:  www.stwm.ca
About the Scotiabank Toronto Waterfront Marathon:
An IAAF Gold Label race, the Scotiabank Toronto Waterfront Marathon is Canada's premier, big-city running event, the Athletics Canada National Marathon Championships, and the Grand Finale of the 7-race Canada Running Series. In 2016 it attracted 26,000 participants from 70 countries, raised $3.24 million for 182 charities through the Scotiabank Charity Challenge, and contributed an estimated $35 million to the local economy. The livestream broadcast was watched by more than 72,000 viewers from 129 countries. http://STWM.ca