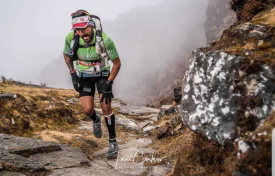 (Logan, UT ) Altra's newest international Elite Team athlete Jordi Gamito won the 2018 Everest Trail Race—a six-stage event through the mountains of Nepal—with a finish time of 21:43:45.
Gamito, 36, is an ultrarunner from Spain with a long list of accomplishments at international races. In 2018, he was second at Ultra Trail World Tour, third at Ultra-Trail du Mont-Blanc , third at Ultra Pirineu and third at Madeira Island Ultra-Trail.
The Everest Trail Race is a self-supported foot race with six stages covering 160 km (100 miles) in the Himalayas of Nepal. The technical course is divided into six days where participants cover approximately 22 km, 24 km, 37 km, 28 km, 20 km and 30 km, respectively, with an elevation change of 29,000 m (95,000 feet).
Gamito ran to victory in the Altra Olympus 3.
Stay updated on Jordi Gamito's accomplishments, along with all of Altra's Elite and Red Team athletes by following the Team Altra Facebook Page.
About Altra
While working at a running store, Altra founder Golden Harper was frustrated that modern running shoe technology caused poor running form and had not decreased running injuries. His passion to create a shoe that followed the science produced Altra's FootShape™ toe box, Zero Drop™ platform and Fit4Her™ female-specific shoes. Since its founding in 2011, Harper and co-founder Brian Beckstead have grown Altra from one to 30 shoe styles, winning multiple Editor's Choice awards and distribution in more than 60 countries. Join the conversation @AltraRunning and #ZeroLimits on Twitter, Instagram and Facebook.
Media Contact: Colleen Logan, VP Marketing, clogan@iconfitness.com
Photo Credit: Ian Corless