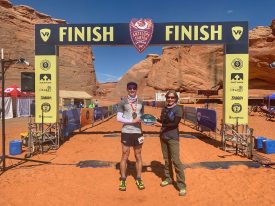 (Logan, UT – March 13, 2019) – Altra Elite athlete Ian Sharman set a new course record at Arizona's Antelope Canyon 50-miler with a speedy time of 6:57:47. Despite the soft, sandy course, Sharman grabbed the win, with second place finishing more than an hour behind him.
Sharman's shoe of choice for the rough terrain was the Altra Lone Peak 4. This trail shoe has multi-directional carved out lugs for higher traction at a lower weight, along with a TrailClaw™ outsole for the best grip, even on sandy courses. Included on the shoe is Altra's 4-Point GaiterTrap™ that allows for the best fitting gaiter to prevent trail debris from getting in your shoes.
"I had a really enjoyable run at Antelope Canyon 50 and the good news is I felt great, ran fast and won," Sharman said. "I wore the Lone Peak 4 and very little sand got in, despite running through soft sand all day, meaning my feet were perfect at the end. Good to know I can trust my gear every time!"
Catch Sharman this June at Western States where he plans to get his 10th consecutive top 10 finish and set the record for the fastest 1,000-mile time for his combined 10 finishes. 
Follow the Team Altra Facebook page to stay updated on Sharman and all of Altra's Elite and Red Team athletes.
About Altra
While working at a running store, Altra founder Golden Harper was frustrated that modern running shoe technology caused poor running form and had not decreased running injuries. His passion to create a shoe that followed the science produced Altra's FootShape™ toe box, Zero Drop™ platform and Fit4Her™ female-specific shoes. Since its founding in 2011, Harper and co-founder Brian Beckstead have grown Altra from one to 30 shoe styles, winning multiple Editor's Choice awards and distribution in more than 60 countries. Join the conversation @AltraRunning and #ZeroLimits on Twitter, Instagram and Facebook.
Media Contact: Colleen Logan, VP Marketing, clogan@iconfitness.com