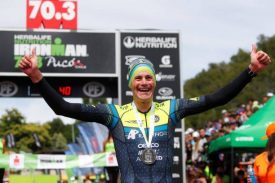 (Logan, UT – February 11, 2019) Altra welcomes Olympic triathlete Andy Potts to its Elite Team. Potts represented the U.S. at the 2004 Summer Olympics, is a four-time USA Triathlon Athlete of the Year, seven-time Ironman Champion, and a 29-time 70.3 Ironman Champion.
"I am thrilled to join the Altra Team," Potts said. "Everything the Altra shoe is built upon not only makes sense, but it is the right way to run. I want to get more people excited to test their potential by staying injury free, running with good form and exploring new heights with Altra."
The start of Potts' triathlete career began in college at the University of Michigan where he was a six-time NCAA All-American Swimmer and a two-time Big 10 Individual Champion. From there, he dove into the triathlon scene in 2003 and was named the USA Triathlon Rookie of the Year. Just a year later, he competed in the 2004 Summer Olympic Games in Athens, Greece. Since then, Potts has raced in more than 200 events, with over 57 first place finishes.
As a new member of the Altra Elite Team, Potts' 2019 plans include many Ironman races. He will be racing the 70.3 Ironman in Chile, Peru, Colorado, Ireland and Georgia. Potts will also compete at the Ironman Brazil, Ironman Arizona and the Ironman World Championships in Kona, Hawaii.
Potts' favorite shoe is the Altra Torin 3.5 for training, but on race day, he prefers the Altra Escalante Racer.
Learn more about Andy Potts and stay updated Altra's Elite and Red Team athletes by following the Team Altra Facebook page.
About Altra
While working at a running store, Altra founder Golden Harper was frustrated that modern running shoe technology caused poor running form and had not decreased running injuries. His passion to create a shoe that followed the science produced Altra's FootShape™ toe box, Zero Drop™ platform and Fit4Her™ female-specific shoes. Since its founding in 2011, Harper and co-founder Brian Beckstead have grown Altra from one to 30 shoe styles, winning multiple Editor's Choice awards and distribution in more than 60 countries. Join the conversation @AltraRunning and #ZeroLimits on Twitter, Instagram and Facebook.
Media Contact: Colleen Logan, VP Marketing, clogan@iconfitness.com