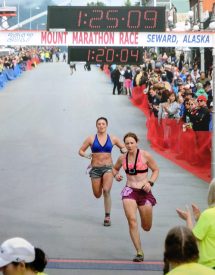 The Toughest 5K on the Planet
(Logan, UT – May 1, 2018) Altra is now the official Footwear Sponsor of the 91st Mount Marathon Race in Seward, Alaska. Regarded as one of the hardest short-distance mountain races in the world, this grueling course climbs 3,022 feet with an average grade of 34 degrees over just 3.1 miles.
Called the "Olympics of Alaska" by locals, Mount Marathon attracts thousands of visitors, expanding the population from 3,000 to around 30,000 in a single day. The race begins and ends in downtown Seward, where spectators line the streets to support this unique and crazy event. The current overall course record is held by David Norris with a time of 41:26 in 2016, and the women's record is held by Emelie Forsberg with a time of 47:48 in 2015.
The annual event is held every July 4th, with new racers selected via lottery. Only 350 men, 350 women and 300 juniors are allowed up the mountain for safety reasons. If you're not selected but willing to head to Alaska for a shot at an entry, a raffle the night before the race gives away one spot. After that, an auction is held for 10 entries in each the men's and women's races.
Altra is currently hosting a giveaway on its website from May 1 to May 21 for a single entry to the Mount Marathon Race. To enter, just answer the question "Why do you want to run Mount Marathon?" Along with the entry, Altra will provide two round trip flights and one shared hotel room for the giveaway winner and a guest. The winner will be announced on May 22 and is responsible for all other costs associated with training, travel and the race.
Although this race has been held since 1915, and is known to be one of the oldest foot races in the country, Altra will be its first ever footwear sponsor. Altra's preferred shoe to tackle Mount Marathon is the King MT 1.5. This trail shoe features a Vibram® MegaGrip™ outsole with deep 6 mm lugs for lateral breaking, medial gripping and excellent traction. Above this is a lightweight, responsive Altra EGOTM midsole with a reinforced mesh upper and durable FootLock™ descent strap. Pair that with the Altra Trail Gaiter, and you'll be ready to conquer both the uphill scramble and downhill controlled fall of this unique course without thinking once about your feet.
The King MT retails for $140 and the gaiters retail for $20. Both are available at www.AltraRunning.com or at your local specialty running retailer.
About Mount Marathon
The Mount Marathon Race is regarded as one of the hardest short-distance mountain races in the world and was organized in 1915, making it one of the oldest foot races in the country. The Mount Marathon Race is organized by the Seward Chamber of Commerce, a voluntary partnership of business leaders working together to make Seward a better place to live, work, and play. Learn more at www.mmr.seward.com.
About Altra
While working at a running store, Altra founder Golden Harper was frustrated that modern running shoe technology caused poor running form and had not decreased running injuries. His passion to create a shoe that followed the science produced Altra's FootShape™ toe box and Zero Drop™ platform. Since its founding in 2011, Harper and co-founder Brian Beckstead have grown Altra from one to 25 shoe styles, winning multiple Editor's Choice awards and distribution in more than 60 countries. Join the conversation @AltraRunning and #ZeroLimits on Twitter, Instagram and Facebook.
Media Contact: Colleen Logan, VP Marketing, clogan@iconfitness.com
Photo Caption: Altra's Copywriter/Marketing Coordinator Laurel DeVore (front) at the finish of the 2017 Mount Marathon Race.