Altra Releases Spikeless Racer, the Vanish-XC
June 6, 2019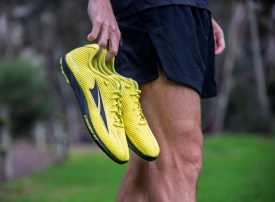 (Logan, UT – June 6, 2019) The Altra Vanish-XC is a spikeless cross country racer made to tackle the track and trails. Strategically placed rubber pods on the outsole provide extra traction like spikes typically do, yet keeps the shoe legal for non-metal spike races.
The Vanish-XC is made to be fast and comfortable. The open mesh upper allows for a variety of lacing patterns customized to your individual needs or foot shape because it doesn't have tradition lace eyelets — users just thread the lace through the open mesh.
At just 5.5 ounces with a low 15 mm stack height, the Vanish-XC is incredibly light and nimble. Unisex color options are blue, black/gold, red and neon yellow.
In 2018, Altra Elite Zach Bitter wore a prototype of the Vanish-XC at the Tunnel Hill 100 Mile, where he set the 100-mile trail world record in 12:08:36. His performance proved this isn't just a sprint shoe, but can be added to your trail arsenal for multiple uses.
The Altra Vanish-XC is available now for $80 at www.AltraRunning.com or at your local specialty running retailer.
About Altra
While working at a running store, Altra founder Golden Harper was frustrated that modern running shoe technology caused poor running form and had not decreased running injuries. His passion to create a shoe that followed the science produced Altra's FootShape™ toe box, Zero Drop™ platform and Fit4Her™ female-specific shoes. Since its founding in 2011, Harper and co-founder Brian Beckstead have grown Altra from one to 30 shoe styles, winning multiple Editor's Choice awards and distribution in more than 60 countries. Join the conversation
@AltraRunning and #ZeroLimits on Twitter, Instagram and Facebook.