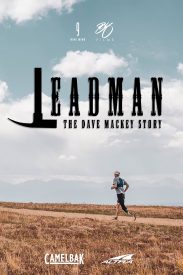 (Logan, UT – February 14, 2019) "Leadman: The Dave Mackey Story" is a film about the incredible true story of Altra and CamelBak sponsored elite ultrarunner Dave Mackey in his pursuit to become the first leg amputee to finish the grueling multi-race Leadman series. The film will premiere on February 18 on Altra's Facebook page. To view the documentary, click this link on Monday, February 18, at 8pm MST.
In 2015, Mackey was running Bear Peak in Colorado when a boulder gave way, plummeting him nearly 20 feet through rocks and branches. During the fall, his left leg was pinned and badly fractured. Mackey underwent 13 surgeries in 16 months, suffered multiple infections and experienced continual pain. With his leg not improving and more surgeries looming, he made the difficult decision to amputate his left leg below the knee.
Since that fateful moment, Mackey knew it would be a long recovery, but he vowed he would once again be a Leadman. In 2014, 10 months before the accident, Mackey completed the Leadville series, placing second overall.
In August 2018—just 20 months after his amputation surgery—Mackey completed the series with his prosthetic leg. The Leadville series includes the Leadville Marathon, Silver Rush 50 Mountain Bike, Silver Rush 50 Run, Leadville 100 Mile Mountain Bike, Leadville 10K and the Leadville 100 Mile.
This 24-minute documentary features emotional interviews with Mackey along with incredible footage from the accident, his amputation, the long recovery process and his journey to becoming the first leg amputee Leadman. The film is produced by Nine Mind Asylum and Billy Yang Films. Mackey's sponsors include Altra, CamelBak and Suffer Better.
Mackey's favorite shoe during his Leadville races was the Altra Torin 3.5, thanks to its plush cushioning, breathable mesh upper and performance fit. His CamelBak's of choice were the Chase Bike Vest and Ultra Pro running vest.
Watch the premiere of "Leadman: The Dave Mackey Story" on February 18 at this special link on Altra's Facebook page, which will go live at 8 pm MST.
About CamelBak:
CamelBak is a brand of Vista Outdoor Inc., an outdoor sports and recreation company. For more information on CamelBak go to www.camelbak.com.
About Altra:
While working at a running store, Altra founder Golden Harper was frustrated that modern running shoe technology caused poor running form and had not decreased running injuries. His passion to create a shoe that followed the science produced Altra's FootShape™ toe box, Zero Drop™ platform and Fit4Her™ female-specific shoes. Since its founding in 2011, Harper and co-founder Brian Beckstead have grown Altra from one to 30 shoe styles, winning multiple Editor's Choice awards and distribution in more than 60 countries. Join the conversation @AltraRunning and #ZeroLimits on Twitter, Instagram and Facebook.
Media Contact: Colleen Logan, VP Marketing, clogan@iconfitness.com